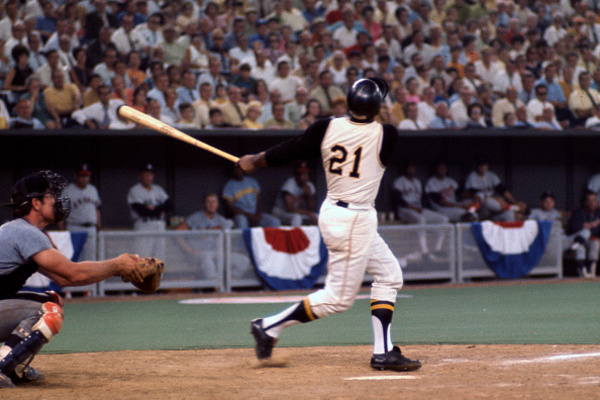 By Leif Skodnick
World Baseball Network
Miami – Walking through the stands during the first game of Pool A play at LoanDepot Park between Puerto Rico and Nicaragua, there was one number you saw on jerseys more than any other.
Sure, there were plenty of No. 12 Francisco Lindor jerseys, and a lot of No. 39 Edwin Diaz jerseys too. 
But, as you would at any baseball game attended by Puerto Ricans, the numbered jersey you saw more than any other was the numero veintiuno of Roberto Clemente.
There were plenty of Pittsburgh Pirates No. 21 jerseys on fans, even though the Pirates were, obviously, not playing here today. There were a lot number of Cangrejeros de Santurce No. 21 jerseys too, from the winter league in Puerto Rico that now bears Clemente's name.
It's been 50 years since Roberto Clemente passed away in a plane crash on December 31, 1972, when a DC-7 he chartered to bring relief supplies to Nicaragua disappeared into the Caribbean Sea of Isla Verde, Carolina, Puerto Rico, claiming the life of the Pirates star, forever leaving him with exactly 3,000 career hits.
He had been in Managua weeks before the Dec. 23, 1972 quake, and arranged for three flights of relief supplies before finding out that corrupt government officials were stealing the goods intended for the victims, and so he decided to accompany the fourth flight on New Year's Eve.
In the wake of his death, the Baseball Writers Association of America waived the five-year waiting period for players to go on the ballot for the Baseball Hall of Fame, and Clemente was voted in on his first ballot in 1973.
A lot of time has passed, but what Clemente did off the field carries as much weight – or more – than what he did on it.
"Much more than baseball, honestly, he's a role model for humanitarianism," said Manuel Miranda of Chicago, clad in a black Pirates jersey, Clemente's name on the back over numero veintiuno sitting in the upper deck of LoanDepot Park. "Everyone knows how great a player he was, how great a batter he was, but he also represented black people, white people, brown people It's something that outside of politics, he's just a role model and he's dark-skinned and represented us."
But there were plenty of Nicaragua jerseys with numero veintiuno on the back as well.
"He's a hero. All of us consider him a hero. He's got ballparks, schools, and streets named after him [in Nicaragua]. He's someone who has linked both countries together as one," said Michael Miranda-Sosa, who lives in Miami but was born in Nicaragua's capital, Managua, as he stood near a car festooned with Nicaraguan flags, handing out Nicaraguan beers to friends both known and unknown.
The baseball rivalry between Puerto Rico and Nicaragua is a long one, Miranda-Sosa explained.
"It goes back to 1938, if I'm not mistaken," he said. "Back then it was at the amateur level, and today is, really, the first time at the professional major league level, but we go back and forth. We beat them, they beat us. But it's been a rivalry for ever. It's been a good, good rivalry since 1938."
Fifty years later, Clemente's sacrifice remains a unifying event in the Latin world, where he was revered.
"Honestly, it means a ton to see the Nicaragua jerseys, just in terms of solidarity between latino people," Miranda, who lives in Chicago, said. His father was originally from Mayaguez and his mother was born in Ponce. "Obviously, we have our differences, but to be able to rally around a really great person, is really cool and it makes for a much better environment and community."
When he was playing, Clemente was often stereotyped by the Pittsburgh press as a poor speaker of English and mocked for his accent. Now, Clemente is revered, and Major League Baseball presents an annual award to the league's player who makes the greatest humanitarian contribution over the course of the season that bears Roberto Clemente's name.
But to this day, there may not be one person, one event, that bonds two countries together the way Clemente's tragic death bonds Nicaragua and Puerto Rico.
"Who gives their life for a country unless they were born in that country?" Miranda-Sosa asked rhetorically. "Someone else outside that country gives their life for that country, especially when they're at the top of their career as a ballplayer? He was extremely special."