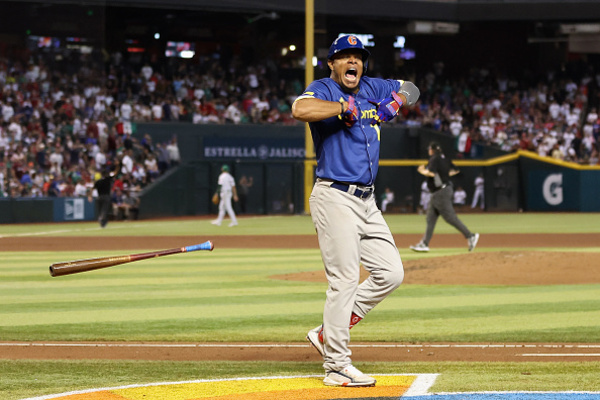 By Julian Guilarte
World Baseball Network
Mexico opened the World Baseball Classic against Colombia with a nice home-field advantage, being that the border isn't that far from Phoenix, Arizona's Chase Field.
The crowd of over 28,000 was treated to a stunning 5-4 Colombia win in 10 innings. Julio Urias was threw four perfect innings for Mexico, and their ace starting pitcher looked like he was going to guide Mexico to an easy victory over Colombia.
Mexico went up 1-0 In the fourth after Alex Verdugo got a base hit and Isaac Parades drove him in with an RBI single.  Urias had six strikeouts when he came out for the fifth. Jorge Alfaro broke up the perfect game with a double. Colombia finally had life and capitalized with an RBI double by Elias Diaz.  
Aging veteran Reynaldo Rodriguez stepped up with a two-run home run to give Colombia their first lead at 3-1. Rodriguez, at 39, was the oldest player on the field, but he was far from done. Rodriguez would pick up two more hits and add another RBI to his total.
"Julio, in the first four innings, he was untouchable. And then there was some adjustments by them," said Mexico manager Benji Gil. "[Jorge] Alfaro started with a double, and then another hit for a single to left and then a home run from Reynaldo. It was a good hit. It was a very strong hit."
The defense for both teams was exceptional, with Colombia getting contributions from third baseman Gio Urshela and second baseman Jordan Diaz. Urshela robbed Luis Arias with a great throw and Diaz knocked down several hard-hit balls.
Mexico was up to the task as well with Parades playing a great third base. Randy Arozarena tied the game for Mexico in the fifth with a two-run home run. Arozarena has flair for the dramatic with ten postseason home runs. This game would continue to swing back and forth.
Rodriguez hit an RBI single in the seventh to put Colombia ahead 4-3. Mexico answered back when Verdugo hit an RBI single to tie the game in the seventh. The game remained deadlocked until the extra innings. The runner does start on second base in pool play of the WBC. 
"I'm grateful for Mexico because I am on their teams in the summer and winter. We had a good start today," said Rodriguez, who played for the Tigres de Quintana Roo in the Liga Beisbol Mexicana last summer and the Aguilas de Mexicali in the Liga ARCO Mexicana del Pacifico in the winter. "I have two hearts. My heart's in Mexico and in Colombia. And then at the end of the day, the result was positive. I'm very happy."
Colombia scored a run in the 10th off an error from Mexico shortstop Luis Urias. Colombia right fielder Gustavo Campero hit a ball with some backspin that ate up Gustavo. It was 5-4 Colombia going into the bottom of the 10th. Jarren Duran stole third base to put the game-tying run 90 feet away with two outs.
Colombia relief pitcher Guillermo Zuñiga stole the show with electric fastballs that were 100 MPH and above. He topped out at 102, struck out four batters and got the win for Colombia.
Mexico will play Team USA tomorrow at 10 p.m. ET, with the game televised on Fox Sports 1 and Colombia will get a well-deserved off day. They return to action Monday against Great Britain at 3 p.m. ET on Fox Sports 2.