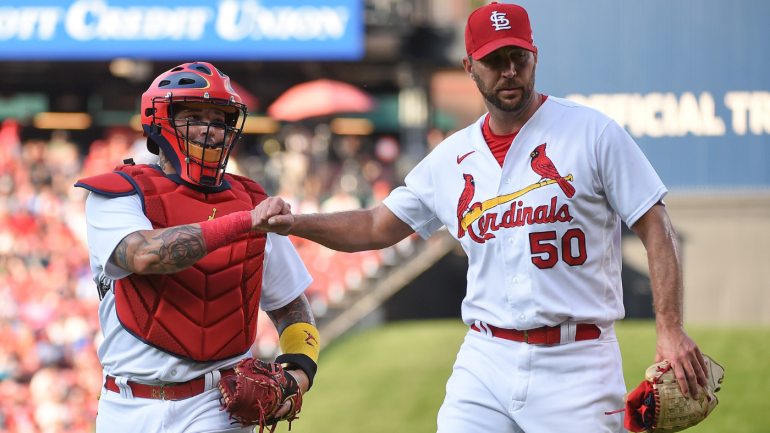 Getty Images
Wednesday night at Busch Stadium, St. Louis Cardinals stalwarts Adam Wainwright and Yadier Molina made a rather remarkable bit of history in a 4-1 win versus the Milwaukee Brewers (box score). The duo started their 325th game as a battery, setting a new Major League Baseball record. The two have been teammates since Wainwright was first called up to the big leagues in 2005. Molina debuted in 2004.
The pair received a standing ovation on their way in from the bullpen, as captured here by MLB.com's John Denton:
Wainwright's night came to a close after five innings. He surrendered a run on eight hits and two walks. He also struck out three batters. The Cardinals were ahead by a 3-1 margin when he departed in favor of Andre Pallante. Molina, for his part, went 1 for 4 with a run batted in.
With the start against the Brewers, Wainwright and Molina broke the record held by longtime Tigers teammates Mickey Lolich and Bill Freehan. Here are the most common pitcher-catcher starting batteries in history:
| BATTERY | TEAM | YEARS | GAMES |
| --- | --- | --- | --- |
| Adam Wainwright to Yadier Molina | Cardinals | 2007-22 | 325 |
| Mickey Lolich to Bill Freehan | Tigers | 1963-75 | 324 |
| Warren Spahn to Del Crandall | Braves | 1949-63 | 316 |
| Red Faber to Ray Schalk | White Sox | 1914-26 | 306 |
| Don Drysdale to John Roseboro | Dodgers | 1957-67 | 283 |
| Red Ruffing to Bill Dickey | Yankees | 1930-46 | 282 |
| Steve Rogers to Gary Carter | Expos | 1975-84 | 270 |
| Bob Lemon to Jim Hegan | Cleveland | 1946-57 | 264 |
| Early Winn to Jim Hegan | Cleveland | 1949-57 | 250 |
| Tom Glavine to Javier Lopez | Braves | 1994-2002 | 248 |
"It's been a good run," Wainwright told the Associated Press last week. "(Molina is) an incredible teammate, friend, and partner in crime. We've been together for a long time. So, you know, we got to finish strong."