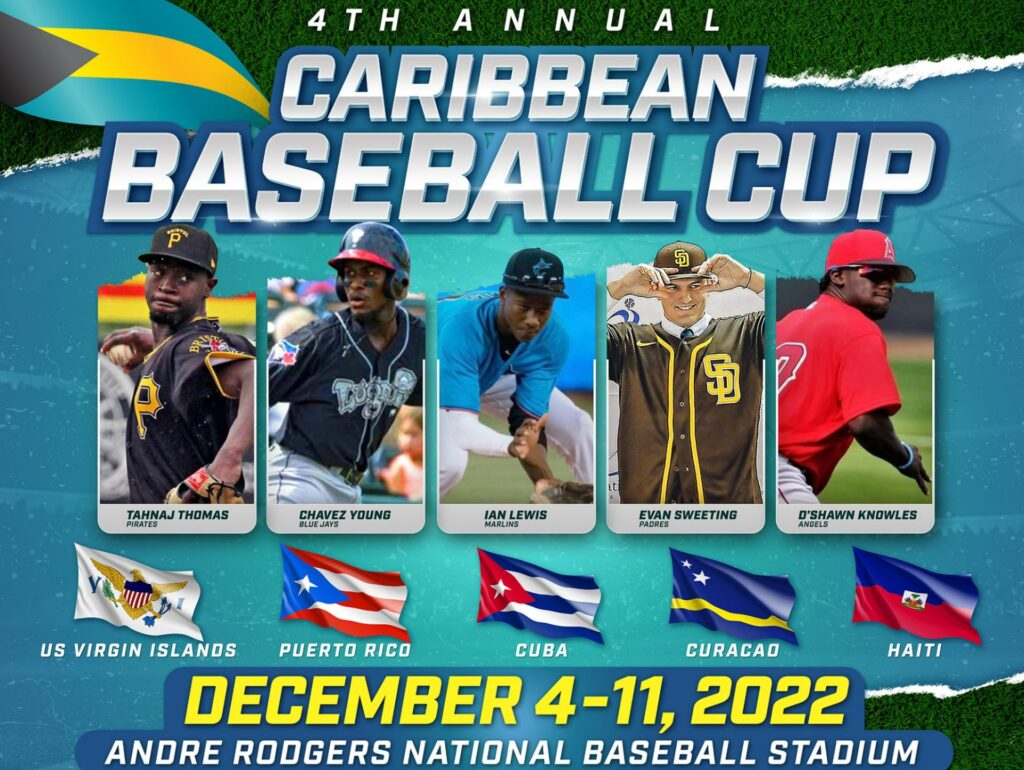 By Matthew Tallarini
Chief Correspondent, World Baseball Network
Dec. 6, 2022
NASSAU, BAHAMAS – This was no pitcher's duel.
The Bahamas and Curacao combined for 22 runs on a total of 15 hits Tuesday night, as Curacao held on to win their pool play game at the 2022 Caribbean Cup 12-10.
Curacao's Kay-Lan Nicasia drove in Rayshelon Carolina on a sacrifice fly to left field to take a 1-0 lead in the bottom of the first. A few batters later, Raywendley Van Gurp would walk with the bases loaded scoring Daren Seferina for a 2-0 lead. Curacao added two more runs on two consecutive wild pitches from Bahamian starter Roger Haven, allowing Dudley Lenora and Swindley Lint to score during Raysheandell Miche's at-batfor a 4-0 lead.
Haven didn't have his best stuff, going just 2/3 of an inning, allowing two hits and four earned runs while walking four batters and striking out one.
Curacao kept pouring on the offense, getting out to a 10-0 lead before the Bahamas could put a run across the plate in the top of the fifth, when they came storming back, scoring six unanswered runs.
Jay Knowles got the inning started with a leadoff walk. The first run for the Bahamas came when Dante Stuart was hit by a pitch with the bases loaded, scoring Knowles. Warren Saunders was then hit by another pitch with the bases loaded, pushing Toby Simmons across. Ural Forbes' RBI ground-out allowed D'Shawn Knowles to come into score, making it a 10-3 ball game. A few moments later Kristin Muneroe would single to right field allowing, scoring Stuart and Saunders and cutting the deficit to 10-5. Adari Grant singled to left, scoring Kashon Conliffe, and drawing the Bahamas within four.
In the bottom of the fifth, Curacao picked up their eleventh run of the game when Dudley Lenora doubled to left field, scoring Seferina, a run that would ultimately stand as the game-winner.
During the bottom of the eighth, Curacao's right fielder, Raysheandell Miche, drove the ball over the left field wall for a solo home run and the first home run at the new Andre Rodgers National Stadium.
Bahamas long reliever Yeshua Saint put on a quality performance, keeping his team in the game as he went six innings out of the bullpen, allowing just three hits, two earned runs, five walks and striking out four.
Curacao will play the U.S. Virgin Islands at 2 p.m. on Tuesday as they look to improve 3-0. The Bahamas will look to bounce back against Cuba on Wednesday at 7 p.m.