Ben Seiler of the Indiana Hoosiers delivers during the game against the Texas Longhorns at the IU UFCU Disco-Falk Field in Austin, Texas. (Photo By Xavier Daniels/Indiana Athletics)
By Leif Skodnick
World Baseball Network
Twenty years ago, a three-year-old boy and his father played catch in their front yard in Albany, New York.
The yard slopes down from the house at the corner of West Lawrence Street and Myrtle Avenue to the sidewalk, and the boy, who had precociously developed the ability to throw accurately with his left hand, would clamber up the hill after a pop fly his dad would toss up, and then he'd roll back down the hill, as three year olds do, regardless of whether he caught the ball.
"Do it again, dad! Another green monster!" he'd say, asking for another throw, bestowing upon the small, verdant hill the same nickname of baseball's most famous wall.
Norman Rockwell could have painted this All-American childhood scene. As for the boy, well, he kept on throwing baseballs. In high school, he threw a perfect game in the state semifinals as a junior and was the small school player of the year as a senior. Seiler played through four years of Division I college baseball at Siena College in Loudonville, New York, and a fifth season with Indiana University.
Standing on the right field foul line at Rocky Miller Park in Evanston, Illinois, Ben Seiler has come a long way from the hill in front of the house on West Lawrence Street in Albany to the green plastic carpet where Indiana University played a weekend series against Northwestern, his dad's alma mater, in early May.
And like every other college senior, whether they're a baseball player or not, Seiler knows his life is about to change. Baseball grabbed a hold of Ben Seiler early and has yet to let go, and while there may be more baseball ahead, it's possible that his next game could see him throw the final pitches of a journey that started years earlier.
'He throws just as hard as he has to'
"Even as a toddler, he had no interest in blocks, cars, books, much to [his father]Casey's chagrin," Rachael Seiler, Ben's mother and a self-identifying "huge Red Sox fan," told World Baseball Network. "When he was three years old, he had baseball cards and he understood who the players were. We would review the positions and he would lay out a game on our living room rug with these baseball cards… and he would play a whole game."
From the living room carpet, Ben moved on to National Little League of Albany, where he made the majors – the top league for kids up to age 13 – as a nine-year-old.
"The fact that he was nine and the rest of the players were 12 and 13 or about to turn 13, that's something," Rachael said of when she realized her son might have potential. "And he was competing at or better at that point."
The little league lefty headed off to the Albany Academy, a private day school in the Capital Region, and then genetics kicked in.
He grew into an intimidating mound presence – not just for a high school pitcher, but for a pitcher at any level. Standing 6-foot-6 and topping 260 pounds, with a fastball in the mid-80s, Ben was already more of a pitcher than a hard thrower. His mom's family line contains a lot of physical size, and he was the recipient of that genetic gift.
"He throws just as hard as he has to," his high school coach, Dave Rider, told the Albany Times Union in a 2018 profile. "There are probably five or six times in every game that he pitched where he reared back and threw as hard as he could. He's more of a pitcher. That is why he can throw as many pitches as he does and come back on short rest. Ben is very efficient. He doesn't have any extreme movements in his delivery. He is the consummate pitcher, kind of a throwback in a time where everything is about velocity."
Four years at Siena kept Seiler close to home, playing ball and going to school less than seven miles from the hill where he once chased pop flies, making 29 starts for the Saints over four seasons, posting a 6.00 ERA, but developing as a pitcher enough to draw the notice of scouts.
There probably would have been more starts at Siena had COVID-19 not cut the 2020 season short, but the pandemic also provided Seiler an extra year of eligibility and a decision to make last summer.
There was the possibility of playing another season of college ball, and also some lukewarm interest from a few teams after he went unchosen in the 2022 MLB Draft. What to do?
"I talked to a couple teams after, but I thought it was in my best interest to go to Indiana and pursue my master's degree and play one more year," Seiler said.
'It refocused me'
There are big differences between playing Division I baseball at a small college in the Northeast like Siena and a Big Ten school like Indiana — at Siena, there were long bus rides to play games against schools in the south when the fields in New York's Capital Region were still covered by snow. This week, the Hoosiers flew to Omaha, Nebraska for the Big Ten Championship by private jet.
Since arriving in Bloomington, he's worked with Dustin Glant, the Hoosiers pitching coach who reached Triple-A as a player in the Arizona Diamondbacks organization and was the Triple-A pitching coach in the New York Yankees organization for two seasons. Indiana brought Seiler in as a fifth-year player to be a veteran presence, keep the team grounded, and do what he does best — get batters out.
At Indiana, he's had to step his game up, and Glant has provided some motivation when needed. Seiler admits that, pitching in the MAAC, he could "take hitters off," or lose focus against the bottom of the lineup. Not so in the Big Ten.
"He basically just told me to lose the mentality, like you can take a pitch off or that you're playing in 35-degree weather in upstate New York in March and instead realize where you are and what you're doing," Seiler said of his new coach's advice. "And it was a positive conversation for sure, just because it refocused me and allowed me to kind of just be in the moment every pitch that I'm here, because I'm so lucky to be here, to be honest."
Glant saw it more as reminding his big lefty that baseball is baseball.
"I've tried to preach to him a million times, 'Hey man, you've been a Friday guy for three years, you know what it's like, you can handle yourself out there,'" Glant said. "I joke this is the Big Ten, not the big leagues, you know, So he just has to trust his stuff and to attack hitters, because when he attacks hitters," he gets outs.
When a shoulder nerve impingement hampered his ability to start games, Seiler opted against surgery and instead adapted to a role in the bullpen, though he served as IU's opener on Tuesday, going two innings against Illinois in the Hoosiers' first game at the Big Ten Championship.
He's taken to the change in role with confidence, appearing in a career-high 18 games and throwing 38.1 innings, striking out 33.
"You never know the situation you're going to come in. That's one of the things I love about it," Seiler said after the series opener at Northwestern in early May. "It's so unique, the managerial aspect of it and also when you come into a game, there's a lot of different things going on, but I've seen it all in college baseball, so I'm ready for it."
Could the next game be the last?
Over the next month, every time Ben Seiler steps onto the field could be the last time, depending upon the vagaries of what Major League organizations want and what scouts view his potential to be as a professional pitcher.
"I tell him all the time, 'I'm rooting for you, man! Don't give up on this, because your name has come up a couple times in draft conversations,'" Glant said. "I'm definitely hoping that he gets that opportunity."
Seiler throws a fastball that reaches the mid-90s and complements it with a slider, a curveball, and has developed a changeup since coming to Indiana. He's always been a pitcher rather than a thrower, but now, with four pitches, he has even more variety to attack hitters.
"He's done a great job on his own of developing the changeup. We've kinda talked about taking the curveball away, and now it's really performing the lefties. So now lefties, he's going curveball and slider," Glant said.
Should he go on to professional ball, wood bats will let him get away with things that he can't do in college, because while the batters may have better eyes and better mechanics, they'll also be swinging bats that require solid contact with the barrel to put the ball in play.
"Given the curveball and the slider, those are… things that pro organizations are looking for. They want guys to have two breaking balls, and he's added the changeup, which has been good," Glant said. "Even at times where he's not getting some of the opportunities that he wants, he's really been a great clubhouse guy and those things do matter to get a shot at the next level."
Don't count him out
Asked what she'd remember of her son's baseball career, it was hard for Rachael Seiler not to get sentimental.
"I think baseball will always be in his life in some manner, shape, or form. Whether it's with, if he chooses to have children, with his own children, or coaching, or volunteering, or something," she said, fighting the emotions that accompanied the thoughts.
"Looking back, it's remembering when he played for Albany Police Athletic League at T-Ball, the Little League days definitely, for friendships, community, encouragement. That was definitely a special time. It's everything. It's the travel to Myrtle Beach. It's the travel to Maryland. Just encouraging him to go get it."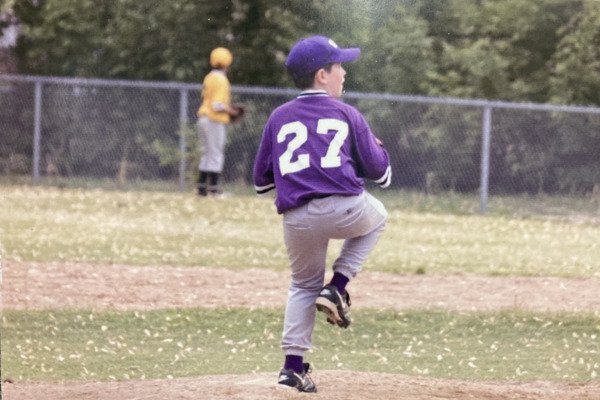 Indiana has at least one more game at the Big Ten Championship, and ranked 26th in the RPI, a formula that the NCAA uses to determine the field for the NCAA Baseball Tournament that leads to the College World Series in Omaha each June, there's a good chance that the Hoosiers have more baseball to play this season.
Don't cry yet, mom. It ain't over 'til it's over.
"It's bittersweet," Seiler said of the end of his fifth college season and the uncertainty of the future that looms beyond. "I know this could potentially be my last year of baseball, but at the same time, I'm trying to soak up every moment with these guys, whether it's on the bus or in the dugout, or in the hotel.
"Don't count us out. We've got a really talented ball club here, and we're trying to play baseball for as long as possible."