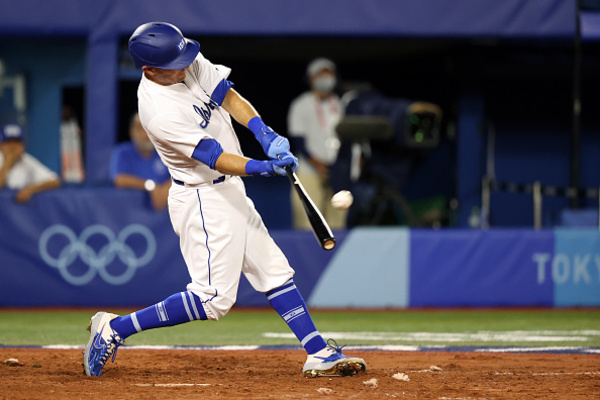 By Leif Skodnick
World Baseball Network
Miami- If you looked inside Team Israel's dugout Sunday afternoon during their game against Nicaragua at LoanDepot Park, you might have had trouble reading the lineup card.
Unless, of course, you had a bar or bat mitzvah and had kept up with your Hebrew.
Writing the lineup card posted on the wall of the dugout in Hebrew was a nod to the shared heritage of the players and staff in the dugout, though few, if any, are particularly observant Jews, but it's still meaningful.
As a man who is the child of a Jewish father from New York and a mother who is not Jewish and definitely not from New York, I share something of a similar background with Israel manager Ian Kinsler, though I grew up in a town in New Jersey with a fair number of Jewish people, while Kinsler, who grew up in Tucson, Arizona, probably did not.
"We celebrated Hanukkah growing up, a little bit of Passover every once in a while," Kinsler said before the 3-1 win against Nicaragua. Kinsler received Israeli citizenship in order to play for the country in the 2020 Summer Olympics. "My mom was Catholic, so it was Christmas and Easter. No real religion in our house growing up."
And it was somewhat the same for me – an occasional trip to synagogue, usually on the High Holidays, and we'd go to the Lutheran church my mother attended on Christmas and Easter.
But heritage – whether you're Jewish, Italian, Nicaraguan, Puerto Rican, or what have you – at the World Baseball Classic, and beyond, it means something. After all, as John Goodman's character exclaimed of Judaism in the Coen brothers' cult classic The Big Lebowski, it's "5,000 years of beautiful tradition from Moses to Sandy Koufax!"
That few, if any players, on Team Israel were actually born or hold citizenship there means little, since the World Baseball Classic lets anyone play provided they are eligible for citizenship in that country. Similarly, Italy's roster is stocked with Italian-Americans, some of whom have been to Italy, but not all have Italian citizenship.
Asked if there's a particularly Jewish brand of baseball, Kinsler said, "I don't know if it's Jewish, but yes, there is a brand of baseball. I think if you've watched the teams in the past, it's pretty gritty."
Gritty is a good way to describe Team Israel at the 2023 World Baseball Classic, with a roster largely composed of Major League Baseball journeymen and rising minor league prospects, who battled back from a 1-0 deficit and burned New York Yankees closer Jonathan Loaisiga for three runs on three hits in a walk in the bottom of the eighth and held on to win 3-1 on Sunday afternoon.
Over in Taiwan, Team Italy acknowledged a part their heritage by putting an espresso machine in the dugout.
"That's a question for the players. I have no idea," Kinsler said. "I think those things are a little organic. I don't think it's planned. You are going to have to ask Italy if they planned that. I don't know if they planned the espresso machine. We'll see. We'll see what our players bring to the table."
If you've walked through the New York City Subway, you may have been asked by a member or members of the Chabad Hasidic sect if you are Jewish, and if you'd like to saw a prayer or wrap tefillin. Following the Holocaust, the Chabad movement sought to rebuild the Jewish population in multiple ways, including bringing non-observant Jews back to the religion as Baal Teshuva, which, translated, means "one who returns to G-d."
On the way into the ballpark this morning, I stopped in the merchandise shop and felt somewhat compelled to pick up a Team Israel yarmulke.
I'm not particularly observant of any religion, I find trying to be ethical and mindful of what it means to be a good person, husband, father, son, and friend is, by and large, to be enough religion for me.
But hey, next Friday night, when I'm breaking the Sabbath to watch a World Baseball Classic quarterfinal at LoanDepot Park, maybe I'll put on that yarmulke.
Because, like Walter Sobchak, who am I to go against 5,000 years of beautiful tradition?