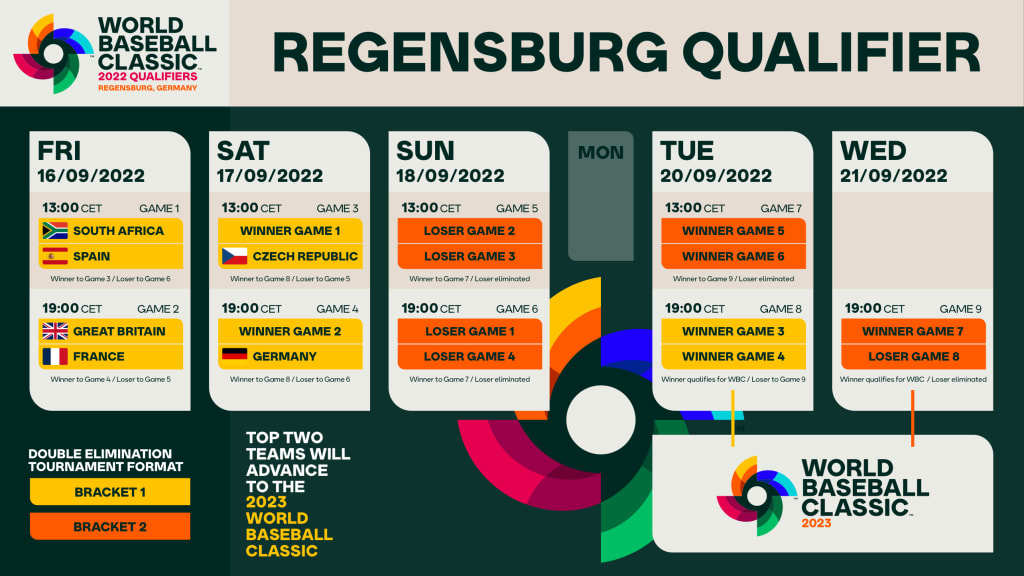 The Regensburg Qualifier in Germany at Armin-Wolf-Arena is underway, and only two will earn a chance to play in the World Baseball Classic tournament beginning this March.
The six nations in the Pool A Qualifier are Czech Republic, Germany, Spain, France, Great Britain and South Africa.
All qualifying games will be available to fans around the world on the World Baseball Classic YouTube and Facebook pages, as well as at WorldBaseballClassic.com and on MLB.TV. (Note: Times are ET and subject to change.)
Monday, Sept. 19
Game 1: Germany 11, South Africa 5
For five innings, an upset was in the cards. South Africa, the lowest-ranked team in the Regensburg Qualifiers, had held Germany to a 2-2 tie on a cold Monday afternoon. The South African side scored on a solo home run by Dayle Feldtman and some impressive small ball led by team captain Jonathan Phillips.
"We do not have the power to just rely on the hits and the home runs. We do not have that kind of juice in our bats," Phillips said after the game. "So, we rely on playing difficult, tough baseball — that's what we rely on. I think coach Andy [Berglund] has done a particularly good job in educating us how to play in that kind of way."
Unfortunately for the only nation to regularly compete on the international circuit in Africa, the hopes for some World Baseball Classic magic ended when Germany slugged three home runs during a seven-run sixth inning that proved to be the difference as the host nation dispatched South Africa in an elimination game.
South Africa starting pitcher Kieran Lovegrove kept the German team in check for five innings, including holding former Major Leaguers Bruce Maxwell and Aaron Alther to a combined 0-for-6 with three strikeouts. Once he departed, Germany feasted on its opponent's bullpen.
Third baseman William Germaine led off the bottom of the sixth by smashing a breaking ball from Kevin Townend to left field for a go-ahead homer.
"It's my first chance to play for the national team, living in Germany for the last three years. I got married a week and a half ago and that's what made me eligible," Germaine said after the game. "It's a great month for me. So, I'm happy to be here."
German manager Steve Janssen then joked that, "You can tell Billy's wife I'm happy to spend the honeymoon with him."
The next four German batters reached via three singles and a throwing error before right fielder Demetrius Moorer drove the first pitch from Robert Lewis-Walker out to right-center for a three-run dinger. One batter later, former Phillies outfielder Aaron Altherr crushed a solo shot off the batter's eye in center.
Moorer tacked on a two-run homer in the seventh inning to finish with five RBIs on the day.
Right-hander Nick Wittgren, a seven-year MLB veteran who pitched for the Cardinals earlier this season, picked up the win in relief by retiring the only batter he faced in South Africa's half of the sixth. Of course, he did this while also wearing Wu-Tang Clan socks — something that doesn't show up in a box score, but is equally important.
The win allows Germany to continue the pursuit of its first-ever World Baseball Classic appearance. It will face the Czech Republic in another elimination game Tuesday at 7 a.m. ET. The winner will play the loser of the Tuesday afternoon Spain-Great Britain matchup on Wednesday, with a ticket to the WBC on the line.
For South Africa, its tournament dreams are over, but vice captain and catcher Kyle Botha said the close-knit group has a lot to be proud of.
"It's difficult, obviously, we're all down," Botha said. "But the guys just need to know that they can hold their hands up high. We went toe to toe with professional athletes. I mean, we're pretty much amateurs in our own right. These guys play a lot more baseball than we do. And we gave them a fight."
Sunday, Sept. 18
Game 1: Czech Republic 7, France 1
After a lethargic showing against Spain on Saturday, the Czech Republic put together a complete performance Sunday, tallying 12 hits in a wire-to-wire win over France to advance in the Germany Qualifiers of the World Baseball Classic.
The Czech Republic wasted no time getting out in front, as Vojtech Mensik opened the bottom of the first inning with a leadoff home run before former Cleveland and Baltimore prospect Martin Cervenka added onto the lead with an RBI double.
Those runs were more than enough support for Czech starter Lukas Ercoli, who threw four strong innings before being relieved by Martin Schneider, who allowed one run in four innings. The Czech Republic's knockout blow came in the bottom of the sixth inning in the form of a two-run single from Marek Chlup that made it 4-0.
France's lone run came on an RBI single from Ivan Acuna in the top of the eighth inning.
With the win, the Czech Republic, the highest-ranked team in this qualifier, advances to Monday, where they'll play the winner of Sunday's between South Africa and Germany. The winner of Monday's contest will play in the championship of the loser's bracket with a spot in the World Baseball Classic on the line.
Game 2: South Africa vs. Germany: postponed
The second game of Sunday's doubleheader was postponed due to heavy rain at Armin-Wolf-Arena. The game will be made up Monday at 6 a.m. ET.
Saturday, Sept. 17
Game 1: Spain 21, Czech Republic 7
Behind a four-hit, five-RBI day from Reds No. 2 prospect Noelvi Marte, Spain achieved a powerful, seven-inning victory over the Czech Republic and improved to 2-0 in the Regensburg Qualifier on Saturday.
Spain jumped out to a 7-1 advantage after the first two innings thanks in part to a three-run homer from Jesus Ustariz and an RBI double by Marte. But those turns at bat paled in comparison to Spain's fifth inning, which saw 17 men come to the plate and 12 runs score on seven hits and six walks.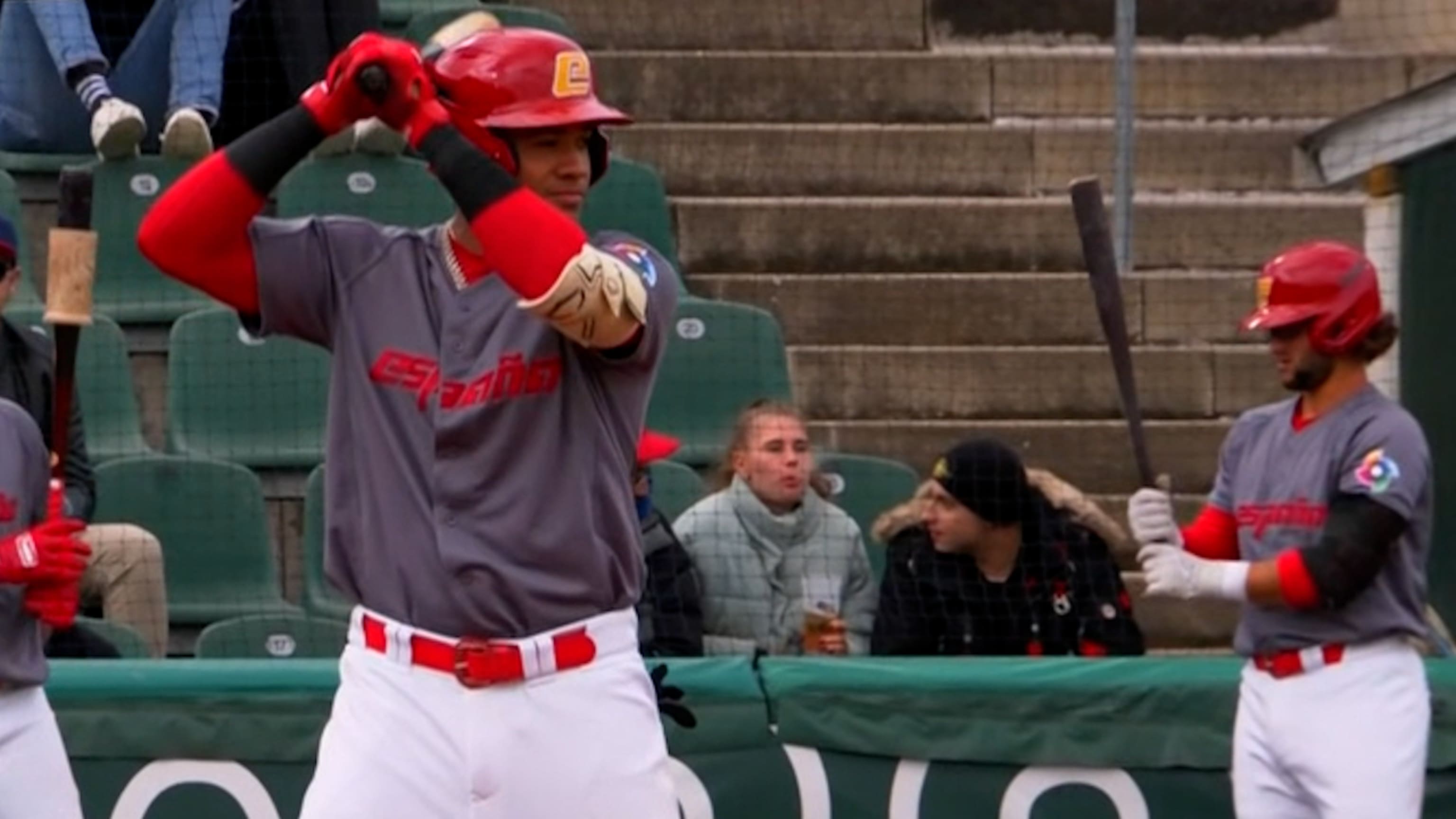 Sep 17, 2022
·
1:30
Noelvi Marte's 4-hit game
That big inning was highlighted by a pair of two-run singles from Marte and a grand slam by Edison Valerio, who went deep twice in the shortened game.
The Czech Republic, trailing 21-2, homered three times in the bottom of the fifth to help keep the game going, but that only extended the inevitable as Spain's 14-run lead at the end of the seventh inning invoked the tournament's 10-run rule. The game would have ended after the fifth inning if Spain was ahead by at least 15 runs.
Spain will look to stay perfect when it plays on Tuesday at 7 a.m. ET against the winner of Saturday's matchup between Great Britain and Germany. Whoever wins Tuesday's game will clinch a berth into the World Baseball Classic in March. It would be Spain's second appearance in the WBC.
The Czech Republic, the highest-ranked team in this qualifier, will try to stay alive in the tournament when it plays France at 7 a.m. ET on Sunday.
Game 2: Great Britain 8, Germany 1
After blowing out France on Friday, Great Britain put up another dominant performance on Saturday, this time against Germany. Third baseman Justin Wylie kicked off the scoring in the first inning with a three-run home run after back-to-back hit-by-pitches to lead off the game. And Great Britain didn't look back from there.
Germany would hit back with a run of their own in the bottom of the first inning, but that would be all. Six Great Britain pitchers held Germany to just one run on four hits, though they handed out nine free passes.
The game went into a rain delay during the top of the fifth inning. When the game resumed, it was Great Britain's offense that came to play. They added five more runs, including a two-run triple from Anfernee Seymour and a two-run home run from Harry Ford to put Germany away.
Great Britain has now outscored its opponents 22-5 across two games.
Germany will look to keep its WBC hopes alive when it plays South Africa at 1 p.m. ET on Sunday.
Great Britain will look to stay undefeated on Tuesday at 1 p.m. ET against Spain. Whoever wins Tuesday's game will clinch a berth into the World Baseball Classic in March.
Friday, Sept. 16
Game 1: Spain 5, South Africa 4
We are in for quite an entertaining World Baseball Classic if the first game of the qualifying round was any sign of what's to come. The 2023 WBC officially got underway Friday as Spain defeated South Africa, 5-4, at Armin-Wolf-Arena in Regensburg, Germany.
Justin Connell, a 23-year-old outfielder in the Nationals' system, led Spain's offense by going 3-for-4 with two runs and two RBIs. He opened the scoring when he got a fastball from South Africa right-hander Justin Erasmus and ripped it far beyond the left-field wall to lead off the bottom of the fourth. He added an RBI double in the seventh.
South Africa, the lowest-ranked club to take part in the Regensburg Qualifier, erased a 2-0 deficit in the top of the seventh thanks to an RBI groundout from second baseman Victor Ngoepe and a run-scoring single by third baseman Jonathan Phillips. But Spain immediately responded with three runs in the bottom of the frame.
That rally started with a one-out walk from shortstop Noelvi Marte, the No. 18 prospect in MLB, who came around to score the go-ahead run on Jesus Ustariz's triple. Designated hitter Chris Kwitzer followed with a double to the opposite field, setting the stage for Connell's third hit of the day.
Former Astros and Blue Jays reliever Rhiner Cruz bent, but he didn't break in the ninth inning. After allowing a two-run double to Tyler Smith, Cruz notched the save by retiring the next two batters on an infield popout and a strikeout.
Game 2: Great Britain 14, France 4
In a matchup of two teams looking to qualify for the World Baseball Classic for the first time, France got on the board first on Ivan Acuna's solo homer in the bottom of the second, but Harry Ford — the Mariners' No. 1 prospect — answered with a two-run blast in the top of the third, and Great Britain never looked back.
Britain scored in each of the final six frames en route to a 14-4 victory that was called after eight innings. Every Great Britain starter reached base at least once, and all but one had at least one hit. Ford, a 19-year-old catcher who went 12th overall in the 2021 MLB Draft, set the tone out of the leadoff spot, going 2-for-3 with three walks, a double and his go-ahead homer.
Tuesday, Sept. 20
Game 7: Czech Republic vs. Germany, 7 a.m.
Game 8: Spain vs. Great Britain, 1 p.m.
Wednesday, Sept. 21
Game 9: Winner Game 7 vs. Loser Game 8, 1 p.m.