It's his first selection with Cards, 7th overall; Arenado narrowly beaten at 3B
ST. LOUIS — Friday's announcement of the MLB All-Star Game starters proved to be a good news/bad news scenario for the Cardinals, as superstar Paul Goldschmidt was tabbed as the National League's starting first baseman while Nolan Arenado was narrowly beaten out by San Diego's Manny Machado for the starting job at third base.
Arenado, a nine-time Gold Glove winner who was looking for a seventh All-Star selection, got 49 percent of the fan vote, compared to Machado's 51 percent, per ESPN. Arenado, who won NL Player of the Month honors in April and hit for the second cycle of his career last week, grew up in Southern California and is hoping to still play in the July 19 All-Star Game at Dodger Stadium. He could be added as an NL reserve.
The complete All-Star rosters will be announced during the 2022 Chevrolet MLB All-Star Selection Show on Sunday at 4:30 p.m. CT on ESPN.
• All-Star starters are set. Who made the cut?
Goldschmidt, the NL Player of the Month in May, received 67 percent of the Phase 2 fan voting for the starting first-base job. A leading candidate for the NL MVP Award, Goldschmidt was rewarded for his stellar first half of the season as he easily beat out Mets first baseman Pete Alonso (33 percent).
"[Goldschmidt] is a stud. He had better be on that team," Cardinals manager Oliver Marmol said prior to Friday's announcement.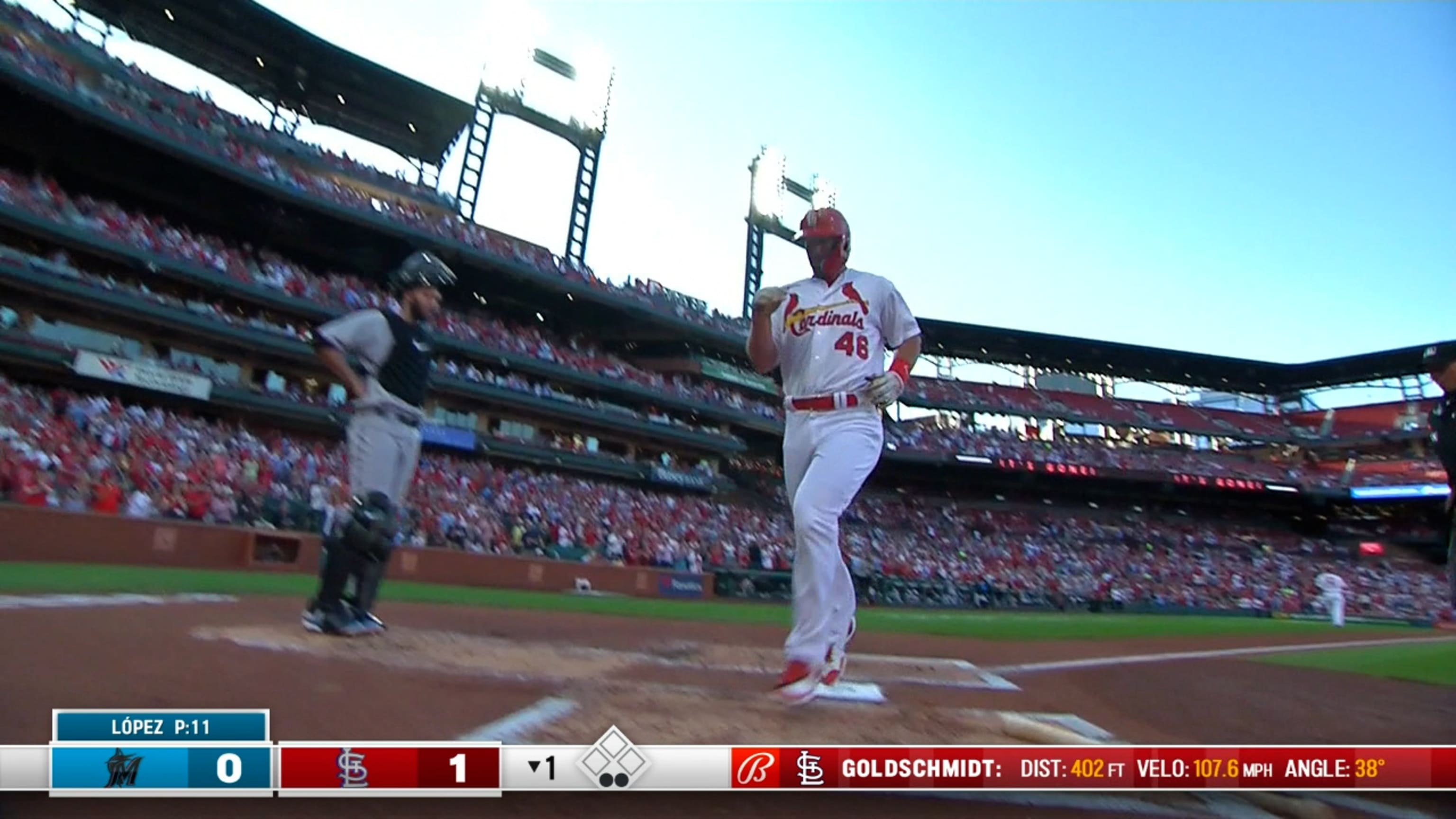 Goldy racks up 4 hits
Goldschmidt is an All-Star for the seventh time in his career, but it will be his first appearance in the Midsummer Classic as a Cardinal. He made the NL All-Star team every year from 2013-18 while with the D-backs.
Goldschmidt, 34, is enjoying the finest season of his MLB career. He entered Friday leading the NL in batting average (.342), on-base percentage (.427), slugging (.619), bWAR (4.8) and hits (105). He ranked second in RBIs (65), second in doubles (28) and seventh in home runs (19).
"It's a little bittersweet tonight with the way we played, but I'm obviously appreciative," Goldschmidt said after the Cardinals' 2-0 loss to Philadelphia on Friday. "There are so many great players out there, so it's a big honor and I'm just thankful."
Cardinals second baseman/shortstop Tommy Edman, one of the Major League leaders in WAR and defensive runs saved most of the season, is a strong candidate to be named an NL reserve. Ryan Helsley, who has allowed just one home run and three earned runs all season out of the bullpen, is also a favorite to make the squad.
"It would be awesome, a blessing, and I'd be super thankful to go out and represent the Cardinals," said Helsley, who pitched well in front of NL All-Star Game manager Brian Snitker this week in Atlanta. "Getting to experience all that for the first time would be awesome."
Goldschmidt will be joined at the All-Star Game by teammate Albert Pujols, who was an MLB legacy selection along with Tigers star Miguel Cabrera. It will be the 11th All-Star Game trip for Pujols in his 22nd and final MLB season. Pujols said he was informed of the selection when MLB Commissioner Rob Manfred called him personally.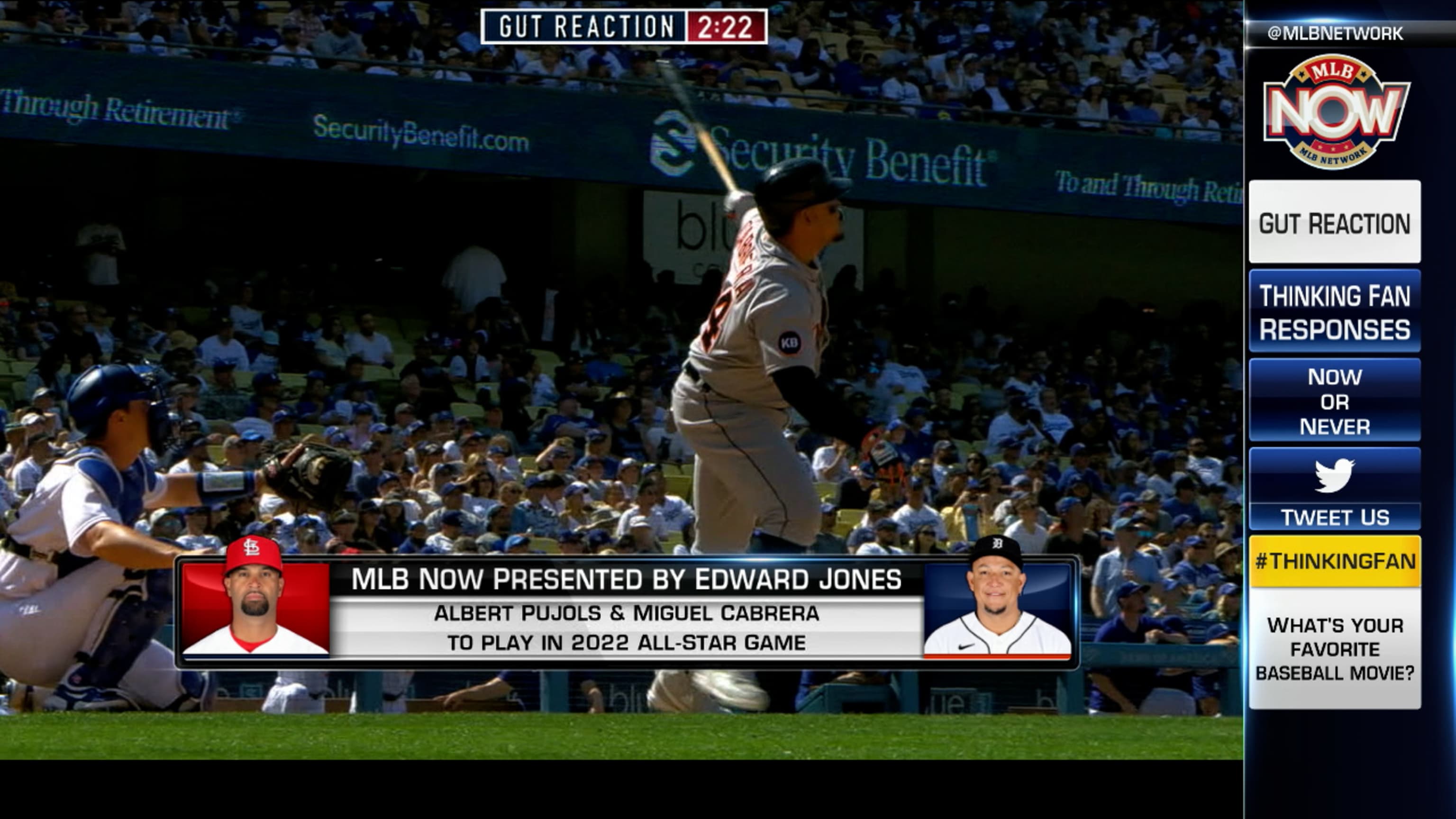 Pujols, Miggy in the ASG
"I've enjoyed every single one of the All-Star Games I've been to, from the first one to this last one that I know I will enjoy, too," said Pujols, who this week pulled within one extra-base hit of tying Cardinals legend Stan Musial (1,377 XBH) for third in MLB history. "It's something that I always have great respect for and I'm really excited to be a part of a great thing this year."
Goldschmidt said he was as happy that Pujols will be honored as he is getting the chance to be in the All-Star Game.
"It's awesome, and I don't know if anyone deserves it more than him," Goldschmidt said of Pujols. "He's such a great player, great for the game and a great teammate. I can't say enough great things about him, and I'm hopeful he will enjoy it."
Arenado got off to a stellar start, cooled off in June and has reignited in July while playing Gold Glove-level third base yet again for the Cardinals. Last week in Philadelphia, he needed just four at-bats to hit for the second cycle of his career. A day later, also in Philadelphia, Arenado jump-started a historic streak of four home runs in a row for the Cardinals. Later, with the score tied in the ninth, Arenado blasted the game-winning home run. It was the 22nd time in his career that Arenado had a multi-homer game.
Sign up to receive our daily Morning Lineup to stay in the know about the latest trending topics around Major League Baseball.Sign up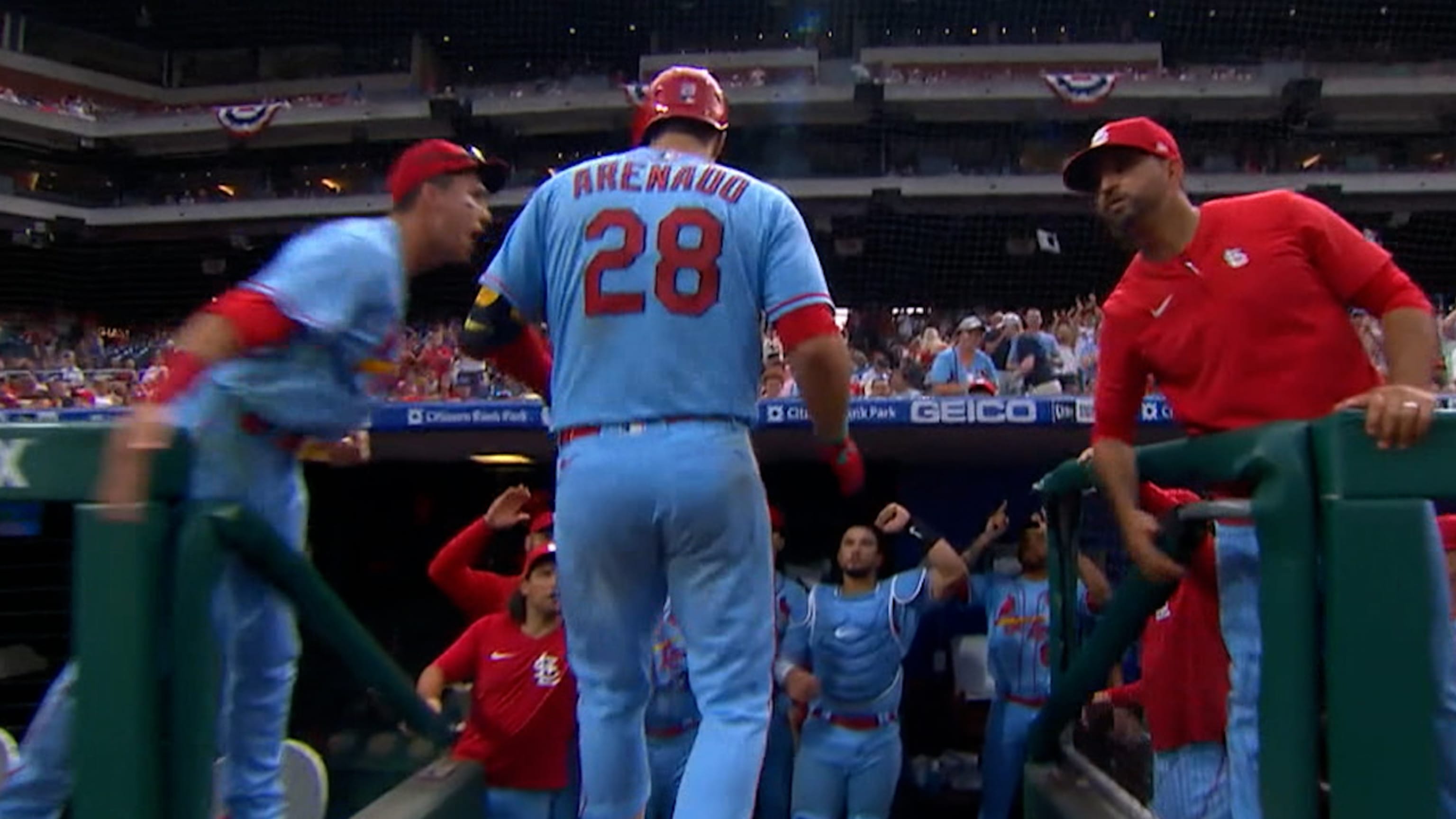 Nolan Arenado goes deep twice
Going into Friday's game, Arenado had a slash line of .292/.357/.529 while also ranking second in the NL (behind only Goldschmidt) in WAR (4.3), 11th in RBIs (55) and 17th in home runs (17). Arenado was an NL All-Star in 2021 — his first with the Cardinals — and also was selected every season from 2015-19.