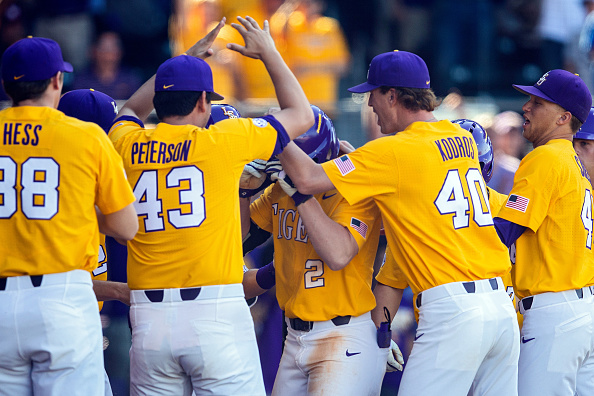 By Matthew Tallarini
World Baseball Network
The fourth week of the NCAA Division I Baseball Rankings by d1baseball.com have been released, with four undefeated programs listed in the Top 25 during this part of the season.
All four undefeated teams – NC State 12-0 at No. 19, Alabama at 12-0 at No. 18, Virginia is 11-0 at No.17, and Wake Forest 13-0 – are all listed through the D1Baseball.com Top 25 rankings, though only Wake Forest is in the top five.
Louisville moved up from being No. 14in the country to No. 9 with a 10-1 overall record. Iowa, Campbell, and Oregon State entered the Top 25 this week after starting the season unranked. Iowa is 9-1 at No. 23, Campbell is 8-2 and No. 24, and Oregon State is at 9-2 and No. 25 in the rankings.
Florida State fell five places in the rankings after losing to Florida Gulf Coast University 10-8 on Friday and 11-10 on Saturday, winning only one game during their three-game set on Sunday 14-8. East Carolina dropped from No. 9 to No. 12 in the country after losing to Long Beach State on Saturday 3-2.
South Carolina will try to continue to rise this week, as they are at 11-1 and improved from No. 23 last week to No. 20 in the newest rankings.
WBN will provide the rankings for the Top 25 weekly from D1baseball.com throughout the 2023 NCAA Division I Season.  
| | | | |
| --- | --- | --- | --- |
| Rank | Team | Record | Last Week's Rank |
| 1 | LSU | 10-1 | 1 |
| 2 | Stanford | 9-2 | 2 |
| 3 | Tennesseee | 11-2 | 3 |
| 4 | Mississippi | 10-2 | 4 |
| 5 | Wake Forest | 13-0 | 5 |
| 6 | Florida | 10-3 | 6 |
| 7 | Vanderbilt | 8-4 | 7 |
| 8 | Arkansas | 9-2 | 8 |
| 9 | Louisville | 10-1 | 14 |
| 10 | TCU | 7-4 | 10 |
| 11 | Virginia Tech | 9-2 | 11 |
| 12 | East Carolina | 7-3 | 9 |
| 13 | Oklahoma State | 8-3 | 12 |
| 14 | North Carolina | 9-3 | 13 |
| 15 | Texas A&M | 7-4 | 15 |
| 16 | UCLA | 9-2 | 17 |
| 17 | Virginia | 11-0 | 19 |
| 18 | Alabama | 12-0 | 20 |
| 19 | NC State | 12-0 | 21 |
| 20 | South Carolina | 11-1 | 23 |
| 21 | Florida State | 8-3 | 16 |
| 22 | Southern Mississippi | 8-3 | 25 |
| 23 | Iowa | 9-1 | NR |
| 24 | Campbell | 8-2 | NR |
| 25 | Oregon State | 9-2 | NR |