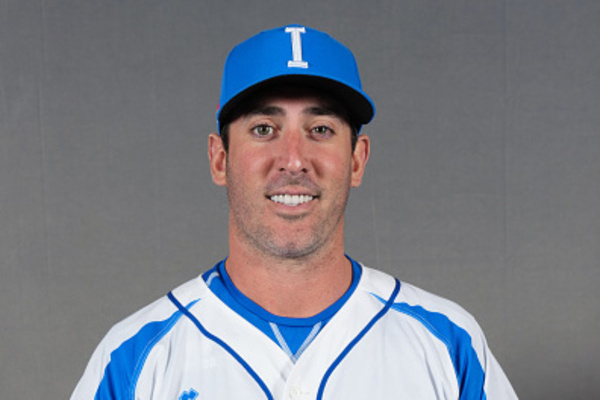 By Leif Skodnick
World Baseball Classic
If Italy wins tomorrow against Cuba in their opening game of the World Baseball Classic, perhaps you can start calling Matt Harvey "la Cavaliere Oscuro."
Harvey, who started two games of the 2015 World Series for the New York Mets, will get the ball from manager Mike Piazza for Italy's opening game of the World Baseball Classic against one of the tougher lineups in Pool A. First pitch for Italy vs. Cuba is 6 a.m. ET Thursday, and the game will be streamed on Tubi.
It's been more than a year since Harvey pitched in a Major League Baseball game. The New London, Connecticut native last stepped onto a big league mound on Sept. 8, 2021 for Baltimore against Kansas City, allowing nine hits and four runs in 4.1 innings of work. Last season, Harvey served a 60-game suspension for distributing Oxycodone to his Los Angeles Angels teammates, which violated MLB's policy regarding drugs of abuse.
But with a full offseason to rest and heal, Harvey believes he's ready to face the best batters in the world.
"I really had time to push it and get things where I needed them to be," Harvey told World Baseball Network last week as Italy worked out in Scottsdale, Arizona. "I've been throwing a lot and doing a lot of lifting and my body is feeling great so it's good to have this opportunity."
He'll face a potent Cuban lineup that, for the first time at the World Baseball Classic, will feature players from Major League Baseball, including Luis Robert and Yoan Moncada from the Chicago White Sox. Yoenis Cespedes will also be in the lineup for Cuba, along with aging but legendary Cuban slugger Alfredo Despaigne, who has 443 career homers between the 12 seasons in the Cuban Serie Nacional and eight years in Nippon Professional Baseball and is the all-time WBC home run leader with seven.
Standing on the side of a high school field in Arizona, just a few miles from numerous spring training camps to which he wasn't invited, Harvey said he hoped to open some eyes with his performance at the WBC with Italy.
He'd like to play this coming season, of course.
Starting pitching is the most in-demand position in baseball, and possibly the most injurious as well. Several years ago, Jeff Zimmerman wrote for FanGraphs that teams needed to get around 32 starts from pitchers who weren't in their five-man starting rotation at the start of the season.
That's what will get Matt Harvey back to the big leagues in 2023 – the ability to keep a good attitude, step up as a spot starter, and get batters out.
But la Cavaliere Oscuro will take his first step back on a run back to the big leagues in Taichung City tomorrow with a 65-pitch audition against Cuba.