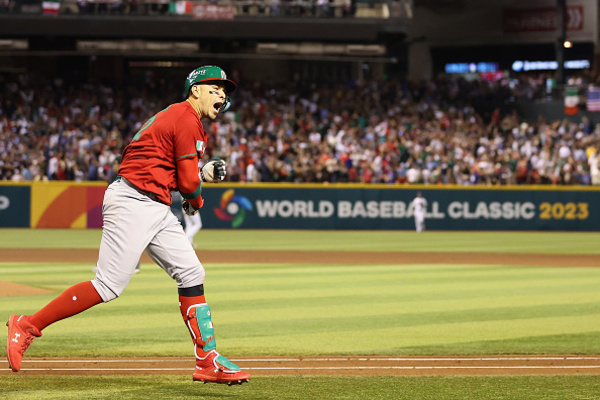 By Julian Guilarte
World Baseball Network
Mexico had a home-field advantage even though they were playing Team USA on American soil in Phoenix, Arizona's Chase Field Sunday in Pool C at the World Baseball Classic. The sold-out crowd of 47,534 was intense, and Mexico struck right away against the United States starting pitcher Nick Martinez. 
Randy Arozarena got it started with an infield single, and Joey Meneses brought him home with a home run to put Mexico up 2-0 in the first inning. Mexico wouldn't look back in a convincing 11-5 win. 
The USA got a run on the board in the second when Tim Anderson drove in Kyle Tucker to make it a 2-1 game. Nick Martinez ran into bad luck in the third when Nolan Arenado booted a ball he would normally get to, but it was ruled a hit. Martinez then allowed two soft hits, allowing Mexico's third run to score. Issac Parades hit a grounder to second baseman Jeff McNeil and first baseman Paul Goldschmidt was unable to pick it up. 
Mexico was up 3-1 after three innings. Mexico's starting pitcher Patrick Sandoval was good, allowing one run through three innings.
Brady Singer took the mound for the US in the fourth inning.  His command was off, and the moment appeared to be big for him. Arozarena continued his big day with an RBI double to put Mexico up 4-1. Meneses hit another home run to put the game out of reach at 7-1. Meneses celebrated the moment with one of the highest bat flips you'll ever see. The score held at 7-1 until the seventh, when Will Smith hit a solo home run for the US to make it 7-2. 
Mexico answered right back in the eighth with four runs against USA pitcher Daniel Bard. Arzoarena got his third hit of the game with an RBI double to make it 8-2. Rowdy Tellez had a two-RBI single and Alan Trejo capped it off with an RBI single.
Meneses had five RBI and Arozarena had two RBI.
Bobby Witt Jr. hit an RBI double to make it 11-3, and Tim Anderson picked up his second hit with a two-RBI double to make it 11-5, but that was as close as Team USA would get
Mexico got a big 11-5 win to even themselves up with the USA with a 1-1 record. Mexico will have an off day Monday, The USA will look to rebound against Canada at 10:00 PM ET on Fox Sports 1.