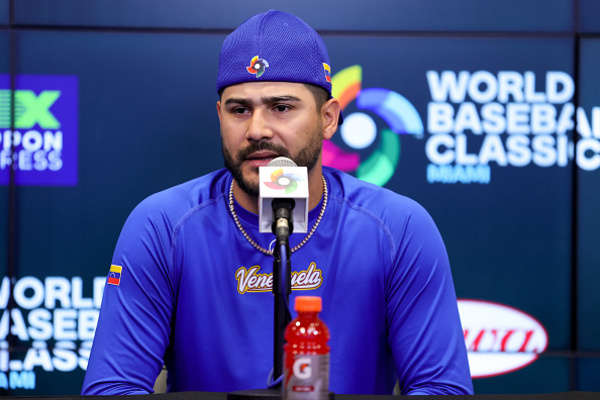 By Conor Liguori
World Baseball Network
Left-handed pitcher Martin Perez will start Venezuela's opening game of the World Baseball Classic against the Dominican Republic.
Perez, 31, was a first-time All-Star in 2022 with the Texas Rangers. He has spent eight season with the Texas Rangers, two with the Boston Red Sox, and one with the Minnesota Twins. Perez was the ace of the Texas Rangers staff last season, and will continue that role with Venezuela.
Martin Perez is faced with a tough task going up against the Dominican Republic lineup. Although just an exhibition game, the D.R. defeated the Atlanta Braves 9–0 on Wednesday afternoon. Veteran sluggers Robinson Cano and Nelson Cruz both hit home runs for the Dominican Republic.
Perez has been a pitch to contact starter his whole career, and generated a 50.2 % ground ball rate last season. Ground ball rate indicates the percentage of all balls put into play by hitters that are ground balls. If Perez can locate his fastball and cutter down and away to both lefties and righties in the Dominican Republic lineup, he can generate a lot of weak contact.
With Perez lined up to start game one against the Dominican Republic, Pablo Lopez is a likely candidate to start against Puerto Rico. Lopez was traded from the Miami Marlins to the Minnesota Twins this winter for his World Baseball Classic teammate, infielder Luis Arraez.
A man of many talents, Martin Perez sang the Venezuelan national anthem, "Gloria al Bravo Pueblo," before Venezuela's exhibition game against the Houston Astros.
"To have the opportunity to wear the uniform and sing in front of all my teammates and in front of a lot of people from Venezuela and in front of my family, too, that means a lot to me. I think this is one of the best moments in my career that I'm not going to forget," Perez said.
Martin Perez and Venezuela will play their first game against the Dominican Republic on Saturday, March 11, at 7 p.m. ET on FS1. The game will be played at LoanDepot Park, home of the Miami Marlins.