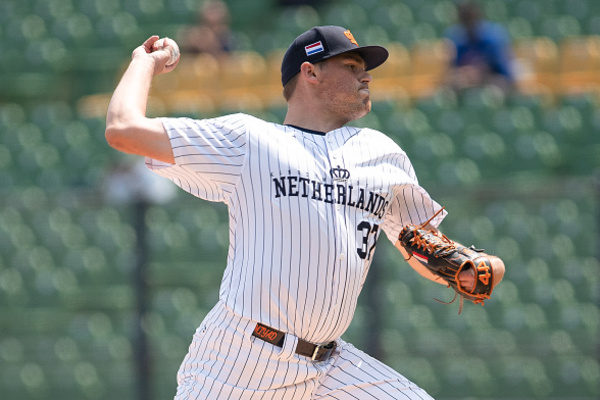 By Leif Skodnick
World Baseball Network
Six different Netherlands pitchers combined to hold Cuba to just three hits and two runs as the Netherlands took out their toughest rival 4–2 in the opening game of the World Baseball Classic.
Dutch starter Tom de Blok went three innings, allowing one hit and one run, while Cuba starter Yariel Rodriguez allowed three hits and one run in four innings of work.
Netherlands manager Hensley Meulens commended de Blok's effort on the hill.
"We were looking for three to four innings out of him. Because the pitch count got high, we got three out of him. He gave us all he had," Meulens said. "He hasn't pitched in a long time. He's been dealing with arm problems. But obviously today was a big day for him and for us to watch him get back on the mound and give us all he had right there."
In addition to the solid work of de Blok and five relievers, Meulens nodded to his defense, which included an infield featuring Andrelton Simmons at third base, Xander Bogaerts at shortstop, Jonathan Schoop at second, and Didi Gregorius at first.
"We got some, like, 17 ground-ball outs and that's a stellar defense these guys can play. That's why we've got a bunch of Gold Gloves out there," said Meulens.
Having those four players in the infield with a ground-ball pitcher on the mound makes it tough for the opposition to get runners on base, but deciding who would play where wasn't easy for Meulens.
"With Simmons being the gold glover, four Gold Gloves, everybody moved him to shortstop. This time I asked him and Didi to honor Bogaerts this time because of where he's at in his career, where they are at in their careers," Meulens said following the game. "Initially I moved Didi to second and Jonathan to first and we flip flopped it a couple weeks ago to have Jonathan play at second where he's one of the better ones in the big leagues and Didi move to first where he's creating value for himself to continue to play in his career."
In the sixth inning, Chadwick Tromp's two-run single up the middle gave the Netherlands a 4-1 lead that they wouldn't relinquish.
"To be honest, I was a little sloppy with my pitch selection, but fortunately I got something I could put a bat on. In those situations we're taught to just battle our asses off," Tromp said following the game.
A win for the Netherlands against Cuba carries big implications for the remainder of their time in pool play. With three games remaining against Italy, Panama, and Chinese Taipei, the Netherlands, No. 7 in the World Baseball Rankings, has already beaten their highest-ranked opponent.
Shairon Martis will start the second game of pool play for the Netherlands, which is March 8 at 11 p.m. ET. They'll face Panama, who demolished Chinese Taipei in their opener 12-5.
"Every day is a different day," Martis said in the press conference following the win against Cuba. "Tomorrow, I'm just going to attack the zone, pitch the way I've been pitching. And hopefully I'll go deep in the game to help my team win."