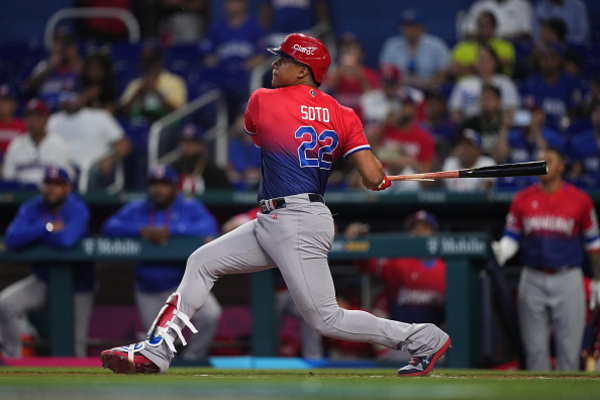 By Leif Skodnick
World Baseball Network
MIAMI- For Nicaragua, there was a big bright spot in Monday's 6-1 loss to the Dominican Republic at loanDepot Park.
Duque Hebbert, who came on to pitch the ninth, opened some eyes when he struck out Juan Soto, Julio Rodriguez, and Rafael Devers.f Before fanning Devers, he'd got ahead of Machado 0-2 before the San Diego Padre ripped a double off the left field wall. 
His effort drew notice, and a Detroit Tigers scout, who made his way downstairs and signed Hebbert to a minor league contract on the spot.
"That's one of the positive parts of the game," said Nicaragua manager Sandor Guido after the game. "That young guy is under 23. He showed what he is made of when you have will, when you have heart, you can do very good things."
First, he fired an 89-mph sinker to Soto that caught the outside corner, and followed with two low-80s changeups that Soto fanned on.
After falling behind Rodriguez 2-0, he got the Seattle Mariner to foul off an 89 mph fastball and an 83 mph changeup. A slider on the outside corner drew a swing that found nothing but air, and Rodriguez took a seat.
Hebbert retired Devers in a seven-pitch at bat, falling behind 3-1 before battling back with an a slider and two changeups that fooled the Boston Red Sox star.
Though he didn't retire the side in order and surrendered that double to Machado, it was an impressive performance for a guy who came to the World Baseball Classic with 15 games of pro experience.
Those 15 games came with Tren del Norte of Liga Beisbol Profesional Nacional, Nicaragua's winter league, a league that doesn't get much notice since its champion doesn't play in the Caribbean Series, Latin American baseball's biggest event.
And if you looked at the 21-year-old Hebbert's numbers from his time with the Tren, you probably wouldn't be that impressed. A 5.40 ERA over 20 innings tells a casual observer that there's nothing to see there.
Of course, someone in the Nicaraguan baseball community knew there was, in fact, something to see there, and on Monday afternoon, he showed the world.
"He came and he faced the best players of the team," Guido said. "…It was great what he did, and we are very excited because of that. It's a good experience for him, and he is going to improve."