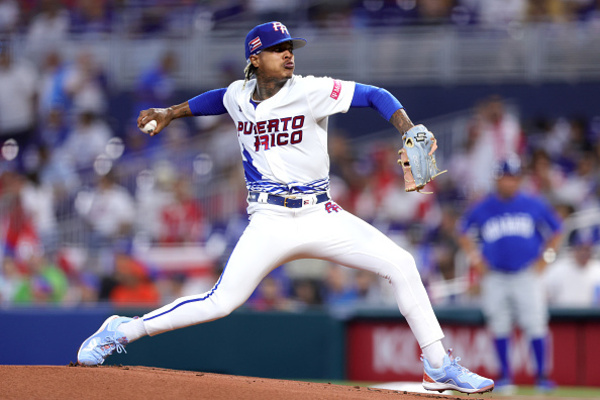 By Matthew Tallarini
World Baseball Network
Miami – Play in Pool D of the 2023 World Baseball Classic in Miami kicked off with Puerto Rico beating Nicaragua 9-1 at Loan Depot Park.  
Puerto Rico, also known as el equipo rubio for the dyed blonde hair its players are sporting for the WBC, is on a quest to make a deep run in the tournament once again after playing in the last two WBC finals in 2013 and 2017, and starting pitcher Marcus Stroman as he went 4.2 innings pitched allowing two hits and one earned run on a solo home run from Elian Miranda during the top of the fifth inning. He walked none and striking out two. Then the Puerto Rico offense poured it on in the fifth inning, batting around and scoring five runs, and added three more in the seventh as they cruised to victory.  
Stroman had a dazzling performance until he was pulled during the fifth inning because of pitch count restrictions in the World Baseball Classic right after Miranda's home run at 64 pitches.
Nicaragua played in its' first World Baseball Classic game ever after qualifying against Brazil in October Panama City, Panama at Estadio Rod Carew.
Nicaragua manager Sandor Guido got good work from starting pitcher Carlos Rodriguez, who pitched four innings, allowing two hits, one earned run, walking one batter, and striking out three.
Puerto Rico got on the board first in the bottom of the first inning when Emmanuel Rivera grounded into a fielder's choice double play attempt by Nicaragua second basemen Alex Blandino, who made an errant throw to first base resulting in Francisco Lindor scoring the first run of the game.
Puerto Rico smashed the Nicaraguan bullpen, putting up five runs during the bottom of the fifth inning, with Lindor starting the fusillade with an infield single to first base, scoring Christian Vasquez and giving Puerto Rico the lead once again at 2-1.
A few batters later, M.J. Melendez placed a two-run single to center fielder, and Martin Maldanado and Lindor came in to score to make it 4-1. The next batter, Rivera, smacked a ground ball back to relief pitcher Erasamo Ramirez, with Enrique Hernandez breaking to the plate to score and extending the lead to 5-1. Javier Baez then ripped an RBI single to right field resulting in Melendez on scoring the sixth run of the game.
In the bottom of the seventh inning, Puerto Rico kept pouring it on, as Neftali Soto reached on error by third baseman Cheslor Cuthbert and Rivera came in to score to make it 7-1. A few batters later, Vasquez hit a two-run single to center field, with Baez and Soto coming in to score for the eighth and ninth runs of the game for Puerto Rico.
Puerto Rico's pitching staff combined to allow just four hits, one earned run, one walk, and nine strikeouts during the opening game of the 2023 World Baseball Classic. Nicholas Padilla faced one batter and received the win.
Puerto Rico will look to improve to 2-0 at the 2023 World Baseball Classic against Venezuela at 7 p.m. EST on Fox Sports 1. Nicaragua will look to chalk up their first win against Israel on Sunday at 12 p.m. EST on Fox Sports 2.