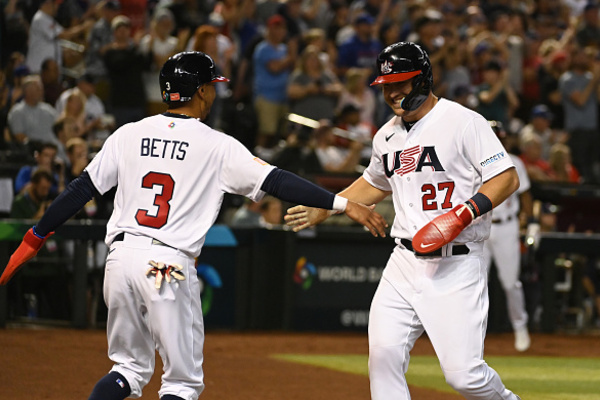 By Julian Guilarte
World Baseball Network
Coming off an 11-5 loss to Mexico Sunday, Team USA was ready for redemption against Canada in Phoenix, Arizona's Chase Field.
They got it, winning 12-1 in seven innings, the Pool C game at the 2023 World Baseball Classic terminated by the mercy rule.
Team USA rocked Canada's starter, Mitch Bratt, for six runs in the first inning. Bratt, just 19, hasn't pitched above Class-A ball with the Texas Rangers organization, which drafted him in the 2021 MLB draft.
Nolan Arenado got the party started with an RBI double that drove in two runs. Kyle Tucker drove the third run with a sacrifice fly. J.T. Realmuto hit an RBI single to make it 4-0 and that was it for Bratt.
R.J Frueure entered the games, but the floodgates continued to open for Canada. Trae Turner had an RBI groundout to make it 5-0. Cedric Mullins hit an RBI triple to make it 6-0. Mike Trout capped off the inning with a three-run home run against Frueure. The US was up 9-0 after the first inning. The USA got five hits and sent 12 batters to the plate in the inning.
The game was already in hand and Team USA's starting pitcher Lance Lynn was up to the task. Lynn went five strong allowing one run and striking out six. Lynn gave up two hits and his only blemish was a solo home run against Jared Young. Lynn was just about perfect and reached the exact pitch limit number of 65 pitches. Lynn is arguably the best-starting pitcher on the USA's staff.
It looked like the USA would have a chance to finish off Canada via the 15-run rule in five innings, but their bats slowed down slightly.
Tim Anderson's RBI triple, his second hit of the night, made it 10-1. J.T. Realmuto hit a sacrifice fly for his second RBI and an 11-1 lead. Trea Turner hit a solo home run for his second RBI and the final USA run.
Miles Mikolas came in after Lynn and pitched two scoreless innings with two strikeouts. He faced his St. Louis Cardinals teammate Canada outfielder Tyler O'Neil. Team USA got a much-needed win to push their record to 2-1. Canada fell to 1-1 with the loss.
For the United States, a win against Colombia on Wednesday at 10 p.m. ET on would clinch a berth in the quarterfinals in Miami. That game will be on Fox Sports 1, while Canada is still alive and will play tomorrow against Colombia at 3 p.m. ET on Fox Sports 2.