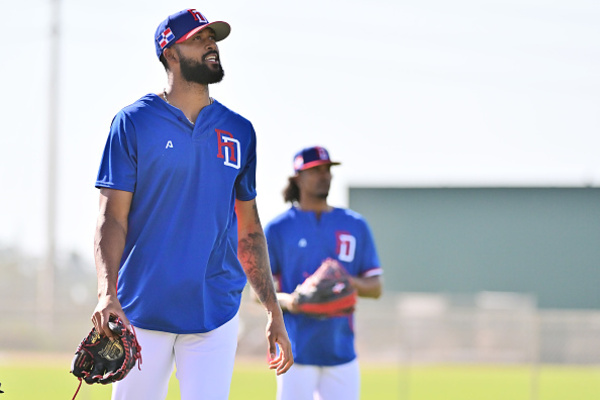 By Julian Guilarte
World Baseball Network
When Pool D play begins at the World Baseball Classic on Saturday, the Dominican Republic will put four of the most fearsome starters in baseball on the mound as they look to advance to the quarterfinals.
First, the Dominican Republic will put the best starting pitcher in the World Baseball Classic, Sandy Alcantara, on the mound for the opening game of pool play. The 27-year-old Alcantara won the National League Cy Young Award for the Miami Marlins last season, and had a record of 14-9 in 228.2 innings pitched. He had 207 strikeouts with an ERA of 2.28 and he led Major League Baseball with six complete games.
Alcantara has pitched for six years, and is a two-time All-Star, with 638 strikeouts and an ERA of 3.10 in 716 career innings. He is a workhouse who dominates with great command of his fastball, slider and change-up. He will get the ball first against Venezuela to open up Pool D Play Saturday at 7:30 PM at Loan Depot Park in Miami Florida.
Despite losing Blue Jays first baseman Vladimir Guerrero to a knee injury, the Dominicans still have one of the best lineups in the WBC. Guerrero will be available to return for the second round of the WBC, but the question remains as to whether the rotation carry its weight and guide this team to the championship.
The rotation took a big hit with the withdrawls of Luis Severino, Luis Castillo and Framber Valdez. Dominican general manager Nelson Cruz announced Monday, March 6 that Cristian Javier will pitch the second game against Nicaragua, Roansy Contreras will pitch the third game against Israel, and Johnny Cueto will finish out pool play against Puerto Rico. 
Houston Astros starter Cristian Javier, 25, has made a strong impression in his brief three-year career. Last season, Javier took a big step, pitching in two combined no-hitters, including one in the World Series against the Phillies. Javier pitched 148 innings with 194 strikeouts and an ERA of 2.54 in 2022, and was essential to the Astros winning the World Series. He previously spent time in the bullpen, pitching 29 games in relief in the last two seasons. He is now fully established as a starting pitcher and had the eighth-lowest ERA among starting pitchers in 2022. Javier has pitched 304 career innings and accumulated 378 strikeouts with an ERA of 3.05.
Pittsburgh Pirates starter Roansy Contreras, 21, pitched his rookie season last year. Contreras started 18 games and pitched 95 inning, struck out 95 batters and had an ERA of 3.79. Contreras has a four-pitch mix of a fastball, slider, curve and change-up. His fastball averages 96 mph and topped out at over 98. Contreras was once a Yankees prospect but was traded for Jameson Taillon in the 2021 offseason. Pitching for the Pirates hasn't provided him with many big-game opportunities, but Contreras has a lot of upside going forward. This WBC start will be the biggest of his life.
Miami Marlins starter Johnny Cueto gets to stay right at home in Miami. The crafty 37-year-old lefty veteran pitched 158 innings last season with 102 strikeouts and an ERA of 3.35. Cueto has won 143 games during his 15-year career. He has pitched 2,192 innings with 1,812 strikeouts. Cueto is a two-time All-Star and 2015 World Series champion with the Kansas City Royals. He spent eight seasons with the Cincinnati Reds. Cueto has diminished velocity that now only reaches the low 90s, but he uses control and his breaking pitches to keep hitters off balance.