Roki Sasaki of Team Japan pitches during the 2023 World Baseball Classic Semifinal game against Team Mexico at loanDepot Park on March 20, 2023 in Miami, Florida. (Photo by Christopher Pasatieri/Getty Images)
By Conor Liguori
World Baseball Network
Major League Baseball is the best professional baseball league in the world. The vast majority of MLB talent comes from the United States, but there were still 269 players born internationally on Opening Day rosters in 2023, according to MLB.com. Many of them earned their MLB deals after outstanding play in other leagues across the globe.
Who are these international players? What professional baseball leagues do they come from? These players all compete in professional baseball outside of the United States and play for their countries' top leagues or are one of the top international prospects in their countries. Their dreams of making it to MLB could be a reality if they keep up the outstanding play in their respective leagues.
Here are 10 of the top international prospects to watch out for.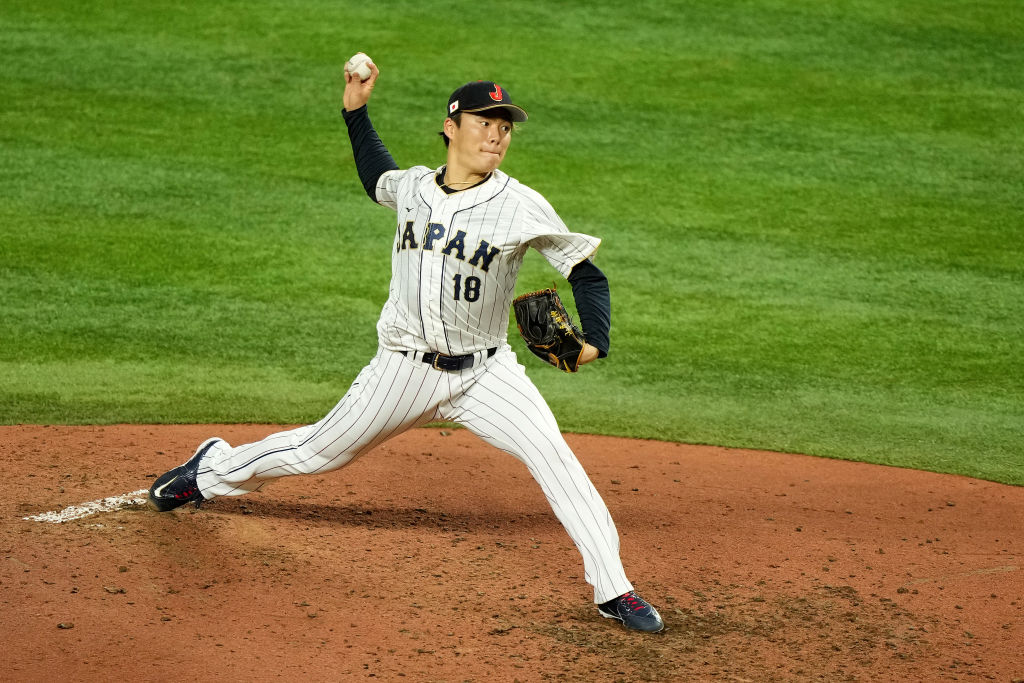 10. Yoshinobu Yamamato, SP, Orix Buffaloes
Yoshinobu Yamamoto is a starting pitcher for the Orix Buffaloes of Nippon Professional Baseball and pitched for Japan in the 2023 World Baseball Classic. The right-handed pitcher has a minuscule 1.89 ERA in 76.1 innings in 2023 and averages 9.6 strikeouts per nine innings. The 24-year-old began playing in the NPB in 2017 and has played with the Orix Buffaloes all seven seasons of his career. Yamamoto's best pitches are his 95 mph fastball and devastating splitter. He could be posted as early as this year and play for an MLB team in 2024.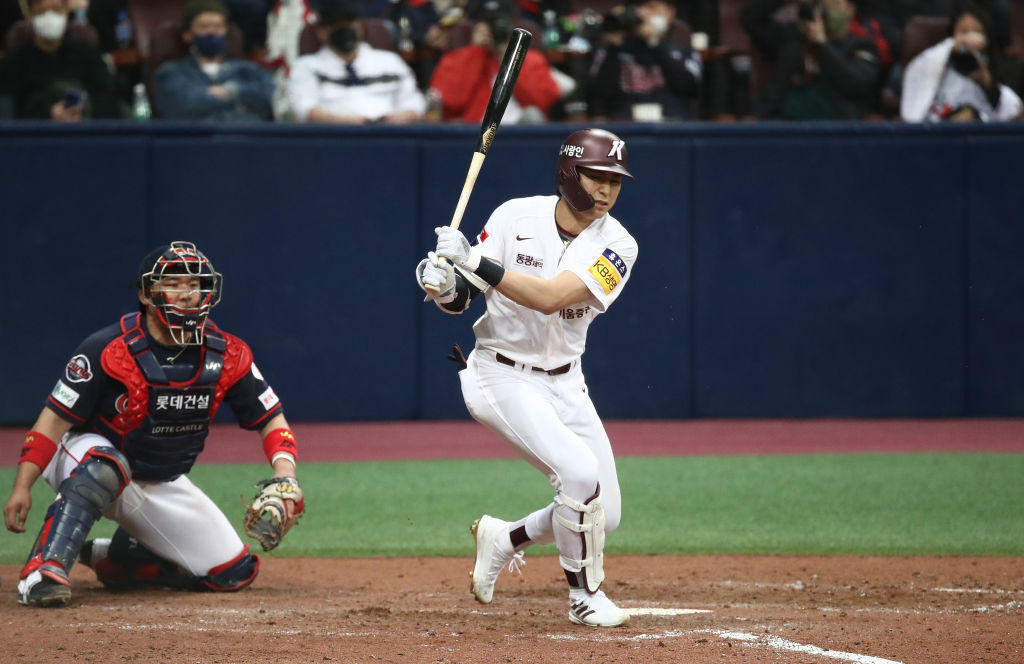 9. Lee Jung-hoo, CF, Kiwoom Heroes
Lee Jung-hoo is a centerfielder for the Kiwoom Heroes of the Shinhan Bank SOL KBO League in Korea. Lee won the KBO Most Valuable Player Award in 2022 with a .349 batting average and 113 RBI. Lee's best asset may be his patience at the plate and his eye for pitches. He has walked more times than he has struck out every year since 2019, his third year in the KBO. In 73 games in 2023, Lee has walked 41 times and struck out 21 times, a rare occurrence in any professional baseball league in 2023. Like any other international player making the switch to MLB, it might take time for him to adjust to the pitching, but his quality defense in the outfield and high walk rate should ease the transition.
8. Jyun-Yue Tseng, RP, Fubon Guardians
Jyun-Yue Tseng is a relief pitcher for the Fubon Guardians of the Chinese Professional Baseball League. Tseng pitched for Chinese Taipei in the 2023 World Baseball Classic and had a 1.35 ERA in 26.2 innings in 2023 for the Guardians. He records 10.5 strikeouts per nine innings and has 157 total career strikeouts thus far in his third professional season. Tseng is only 21 years old, so it is hard to predict when he will sign with an MLB team, if ever. Due to his outstanding performances on the mound, the Guardians might look to hold on to him as long as possible.
7. Fernando Cruz, SS, Dominican Republic
Fernando Cruz is a shortstop and an international prospect out of the Dominican Republic. Baseball America lists Cruz as one of the top international prospects in the 2024 class, and he is a cousin of former MLB veteran Starlin Castro. The 16-year-old has been heavily linked to signing with the Chicago Cubs, according to Yardbarker. Com. The Cubs are the same team Starlin Castro signed with as a 16-year-old in 2006. Cruz's best talents on the field include his bat speed and ability to hit to the opposite field, according to Baseball America. At such a young age, it is impossible to predict what kind of player Cruz will turn out to be, but his arrival to the United States is heavily anticipated.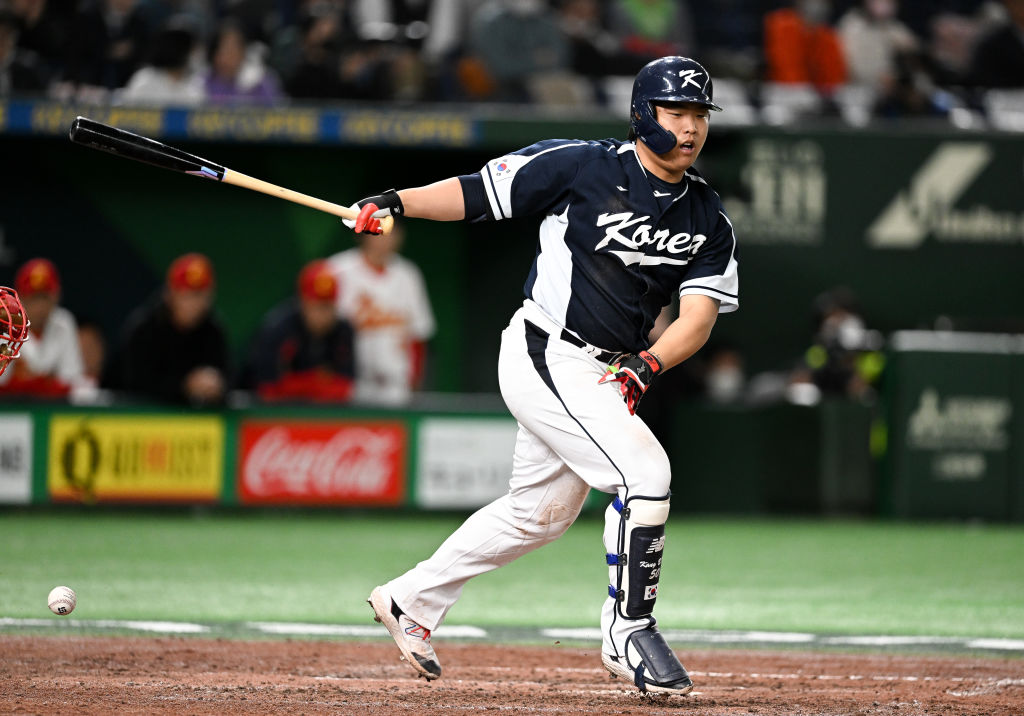 6. Kang Baek-Ho, 1B, KT Wiz
Kang Baek-Ho is a first baseman for the KT Wiz of the Shinhan Bank SOL KBO League in Korea. The left-handed hitter possesses great power and hit 29 home runs as an 18-year-old in 2018 for the KT Wiz. His best season as a professional was in 2021, setting career highs in RBI (102), batting average (.347), and OPS (.971). Now at 23 years old, Kang could be planning a transition to MLB in the next few years. One comparison to Kang is Ji-Man Choi, who is now an eight-year MLB veteran and has a ton of power from the left side of the plate. Like Choi, Kang is not a speedy runner.
5. Jose Perdomo, 3B, Venezuela
Jose Perdomo is a third baseman and an international prospect from Venezuela. He is expected to sign with the Atlanta Braves during the 2024 international signing period according to FanGraphs.com. He currently attends IMG Academy in Manatee County, Florida, in preparation for his professional career. Perdomo is only 16 years old and is one of the top international prospects. Standing 5-foot-11 and 175 pounds, Perdomo still has a lot of time for his body to grow before playing in the minors. "Perdomo is far more physically advanced than his peers," an international scouting director told Joe Doyle of ProspectsLive.com. "He's just really strong."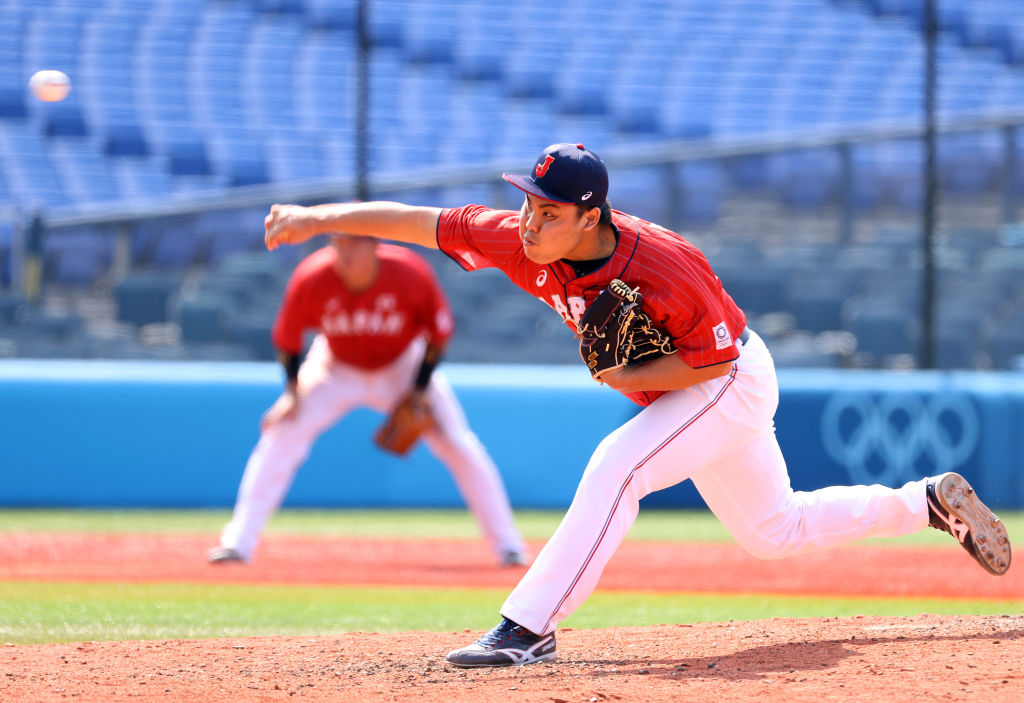 4. Kaima Taira, SP, Saitama Seibu Lions
Kaima Taira is a starting pitcher for the Saitama Seibu Lions of Nippon Professional Baseball in Japan. The right-hander has appeared in 11 games for the Lions in 2023 and has given up 17 earned runs in 71 innings, good for a 2.15 ERA. The 23-year-old transitioned from a relief pitcher to a starter in 2023 and has remained dominant. He tied an NPB record of 38 consecutive games without allowing a run in June of 2021 and had a 0.90 ERA in 62 games that season. He also recorded 70 strikeouts in 60 innings. Taira is expected to be posted in 2025, according to FanGraphs.com.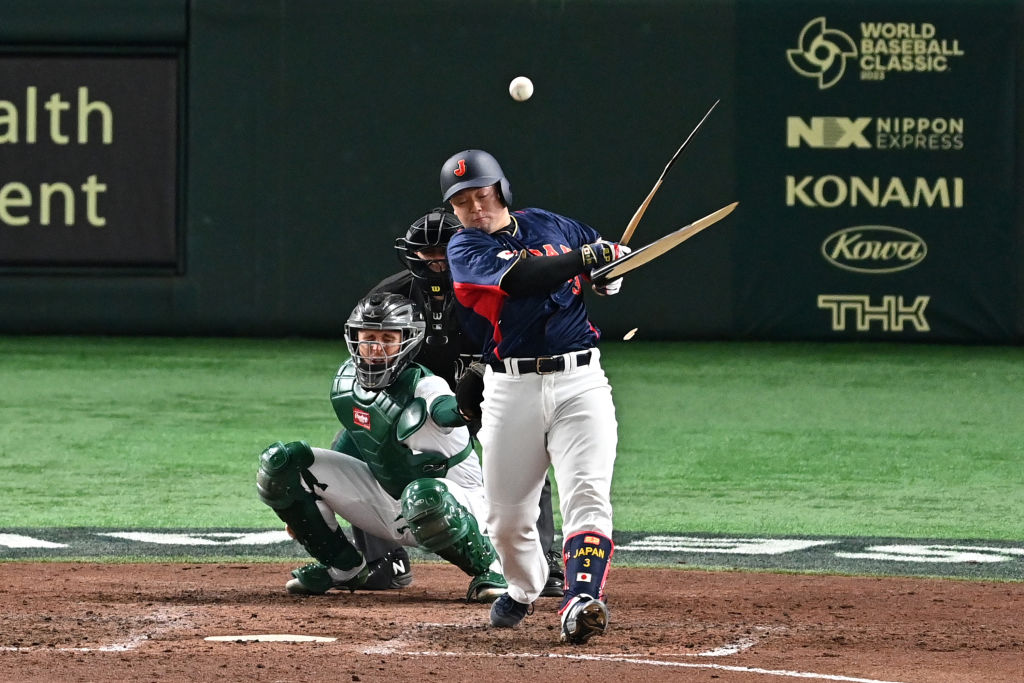 3. Shugo Maki, 2B, Yokohama DeNA BayStars
Shugo Maki is a second baseman for the Yokohama DeNA BayStars of Nippon Professional Baseball in Japan. Maki played for Japan in the 2023 World Baseball Classic and hit two home runs in the tournament, sending one over the wall against the Czech Republic and one against China. The 25-year-old hit a career-high 24 home runs in 2022 and already has 13 in 70 games this season. Maki also tied Shigeo Nagashima for most hits in a rookie season in 2021 with 153. He played 67 games at first base in 2021 but has played every game at second base since then. Maki, who is in his third year in the NPB, will either have to play six more years in Japan to gain international free agency or request to be posted.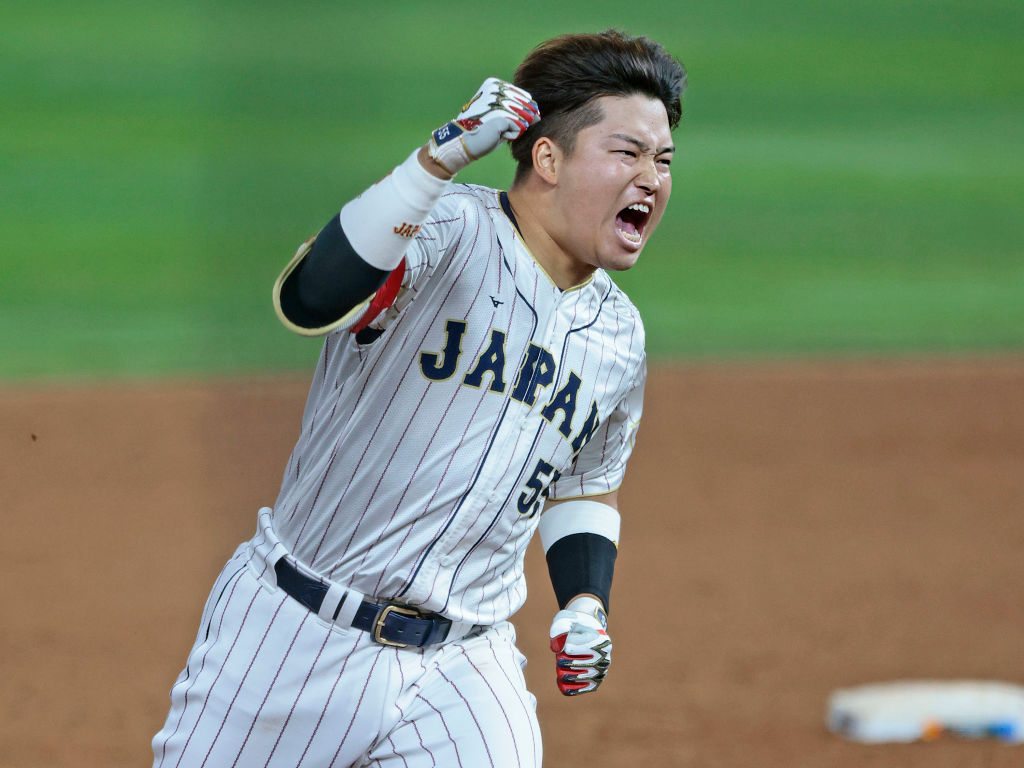 2. Munetaka Murakami, 3B, Tokyo Yakult Swallows
Munetaka Murakami is a third baseman for the Tokyo Yakult Swallows of Nippon Professional Baseball in Japan. He became the first NPB player to hit 50-plus home runs in a season since Hideki Matsui in 2002 and won the NPB Triple Crown in 2021, leading the league in home runs (56), batting average (.318), and RBI (134). Murakami has also stolen 57 bases in 91 attempts, which is not traditional for someone with his immense power. He signed a three-year NPB deal this past December, ensuring he will be with the Swallows for the next three seasons before heading to MLB when he is 25. Murakami has already been rumored to prefer New York or the west coast when he is posted.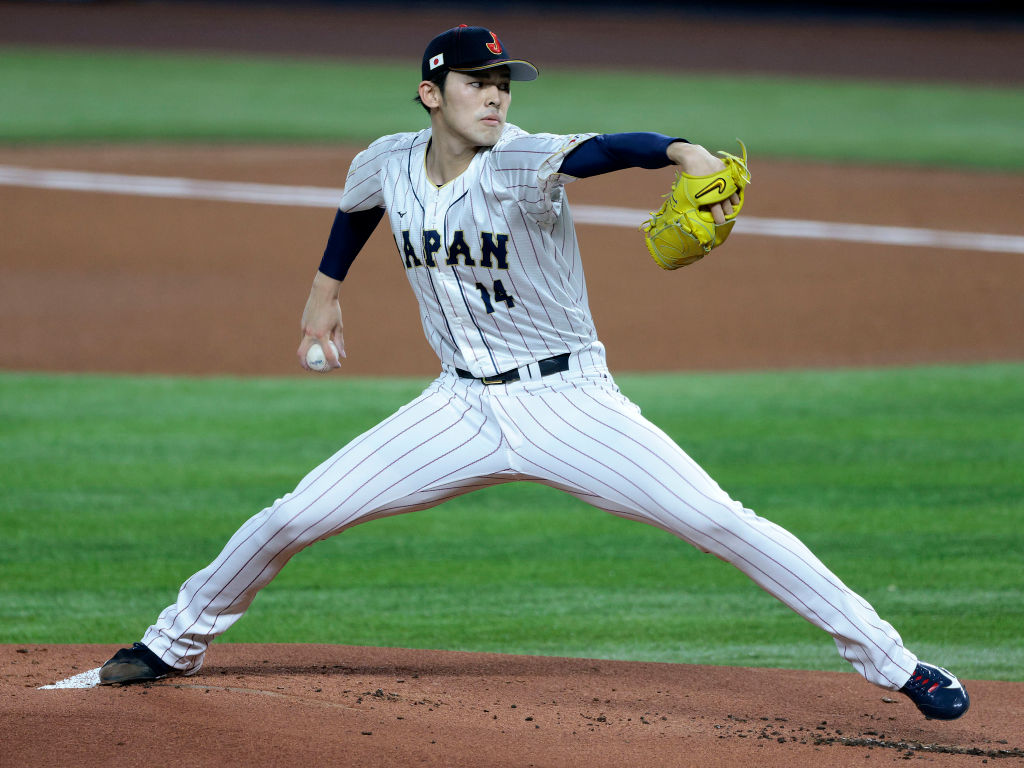 1. Roki Sasaki, SP, Chiba Lotte Marines
Roki Sasaki is a starting pitcher for the Chiba Lotte Marines of Nippon Professional Baseball in Japan. Sasaki's fastball can reach as high as 103 miles per hour, and he uses it to his advantage to blow past hitters. He had a mind-boggling 173 strikeouts in 129.1 innings as a 20-year-old in 2022 and has 96 strikeouts in 64 innings in 2023. According to MLB.com, Sasaki threw 90 percent of his fastballs over 100 miles per hour in the 2023 World Baseball Classic Semifinals against Mexico and struck out Randy Arozarena on a fastball clocked at 101.8 in the first inning. Sasaki will officially be an international free agent in 2027 but is expected to request to be posted by the Chiba Lotte Marines. If the Marines reject him from being posted, he will have to play out the rest of his contract in Japan. Without a doubt, Sasaki is the top international prospect to watch.