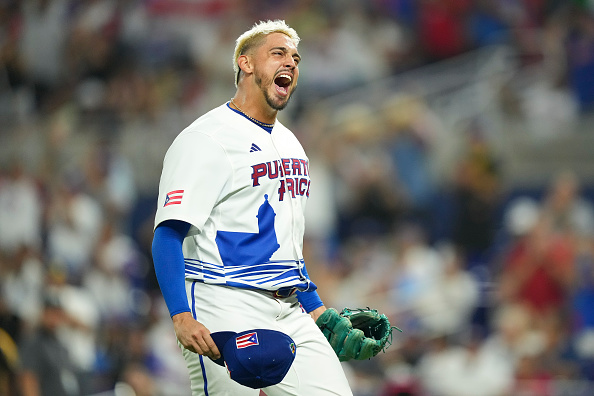 By Matthew Tallarini
World Baseball Network
MIAMI- Puerto Rico starting pitcher Jose De Leon pitched an incredible game last night, as he combined with three teammates for a perfect game, beating Israel 10-0 in eight innings due to the mercy rule in the World Baseball Classic.
De Leon and the Puerto Rico pitching staff threw the first perfect game in World Baseball Classic history and the second no-hitter since Netherlands pitcher Shairon Martis threw a no-hitter to beat Panama 10-0 back in 2006.
De Leon also matched the World Baseball Classic single-game strikeout record at 10, set by the Dominican Republic's Ubaldo Jimenez in 2009 against the Netherlands. The Puerto Rico pitching staff combined for 12 strikeouts during the perfect game.
In the bottom of the first inning, Puerto Rico cracked the scoreboard right out of the gate, as Javier Baez drove a line drive two-run single to left field, scoring M.J.1 Melendez and Emmanuel Rivera. The next batter, Eddie Rosario, laced a double to center field scoring Baez to go up 3-0.
During the bottom of the second inning, Enrique Hernandez doubled on a sharp line drive to left field, and Martin Maldonado and Francisco Lindor came in to score to take a 5-0 lead.
Puerto Rico never took their foot of the gas the rest of the way. Hernandez ended the game to complete the perfect game with a ground ball single to left field, scoring Maldonado for a 10-run lead.
Yacksel Rios, Edwin Diaz, and Duane Underwood Jr. finished out de Leon's effort on the mound in the perfect game for Puerto Rico's third game of the 2023 World Baseball Classic.
Puerto Rico has an off day on Tuesday and a game plan to work with playing against the Dominican Republic on Wednesday night for a possible win or go home scenario on the line. Puerto Rico will have to chalk up the best strategic plan to stay in Miami for single elimination quarter finals.
"It was a very special moment for him, but especially — for everyone, but for him," said Puerto Rico manager Yadier Molina. "His family was here, and I thought that that would be a great souvenir for him. He accepted that. We are very happy with his performance. I know José, and he has been working hard to be in this position. He deserved that."
Puerto Rico has made it to back-to-back World Baseball Classic championship games, and still has a shot to make it three in a row the championship game in Miami.
Israel drops to 1-1, and will play the 1-1 Dominican Republic on Tuesday at 7 p.m. EDT on Fox Sports 1. Puerto Rico's final pool play game of the 2023 World Baseball Classic will be on Wednesday against the Dominican Republic at 7 p.m. on Fox Sports 1.