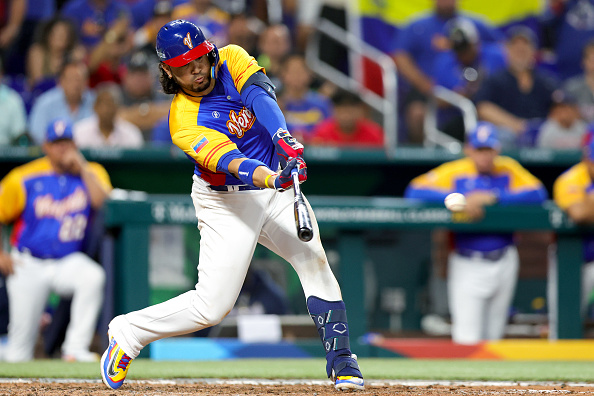 By Matthew Tallarini
World Baseball Network
Venezuela manager Omar Lopez has built a top-tier game plan during the 2023 World Baseball Classic in Pool D at Loan Depot Park in Miami.
Venezuela executed that plan, and is now headed to the quarterfinals of the World Baseball Classic after beating Nicaragua 4-1 in their third game of the tournament. Venezuela is now 3-0 during the 2023 World Baseball Classic, and could extend their stay in Miami and capture their first title ever in the tournament.
Nicaragua finished the 2023 World Baseball Classic with an 0-4 record and will have to qualify again to be in the field at the next World Baseball Classic.
In the top of the second inning, Nicaragua got on the board first as Steven Leyton hit a RBI ground out to Venezuela second baseman Jose Altuve, and Norlando Valle came in to score.
Venezuela starting pitcher Eduardo Rodriguez had a quality outing, going two innings and allowing seven hits, one earned run, no walks, and striking out three batters.
During the bottom of the fourth inning, Venezuela's Andres Gimenez singled on a line drive to right field and Ronald Acuna Jr. came in to score to tie the game up at one.
The next batter, Eugenio Suarez, smacked a two-run single to center field and Anthony Santander and Gimenez came in to score to take a 3-1 lead.
In the bottom of the fifth inning, Santander continued his hot performance at the plate when he doubled to center field, sending Luis Rengifo in to score the fourth run of the game.
Venezuela's bullpen shut down Nicaragua's offense the rest of the way, and relief pitcher Jose Alvarado shut the door in the ninth inning, getting J.D. Montes to fly out to center field for the final out of the game and clinch Venezuela's place in the quarterfinals at loanDepot Park.
Venezuela's pitching staff combined to allow 11 hits, one earned run, no walks, and struck out 12 batters.
Nicaragua starting pitcher Erasamo Ramirez pitched three innings and allowed two hits, no earned runs, no walks, and struck out three batters.
Nicaragua has nothing to be ashamed of with their performance during the 2023 World Baseball Classic with most players going back to Nicaragua to play in their GPO league circuit, minor league teams with major league organizations, professional free agents and the independent leagues in the United States.
Nicaragua will play in the 2023 San Salvador Central American and Caribbean Games, carrying players from their GPO summer league, as well as minor league players who get permission from their Major League Baseball organizations to participate in the event, which will be held in San Salvador, El Salvador from June 25 to July 1.
Venezuela will play Israel at 12 p.m. EDT on Fox Sports 2 in Miami for their final game in pool play of the 2023 World Baseball Classic. They'll face the Pool C runner-up on Friday, March 17 at 7 p.m at loanDepot Park, with the game televised on Fox Sports 1.