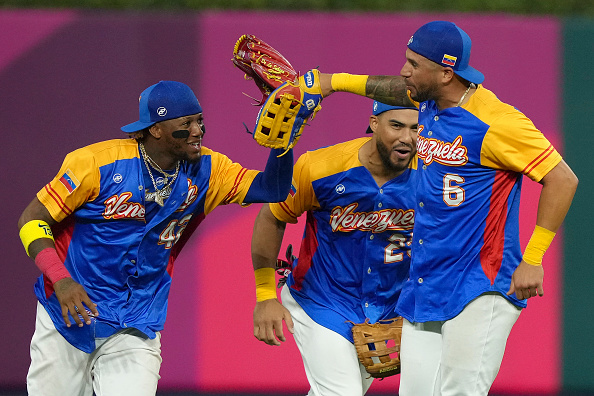 By Matthew Tallarini
World Baseball Network
On opening night of Pool D at the 2023 World Baseball Classic, Venezuela beat the Dominican Republic 5-1.
Venezuela had not beaten the Dominican Republic in the World Baseball Classic and was out for revenge this time around, having lost the only two previous matchups in 2006 and 2017. Venezuela's pitching staff combined for six hits, one earned run, walked seven batters and stuck out 15 in last night's game.
Lopez started Martin Perez during last night's action, and Perez kept the game close for 3.1 innings, allowing four hits, one earned run, walking two batters, and striking out four. because the pitch count limit being intact during the World Baseball Classic as he pitched
Dominican Republic manager Rodney Linares called up 2022 National League Cy Young Award winner Sandy Alcantara, who pitched 2.3 innings allowing five hits, three earned runs, walking three batters and striking out two against the scrappy Venezuela offense.
The Dominican Republic scored first when 2023 A.L. Rookie of the Year and Seattle Mariners outfielder Julio Rodriguez led off with single to left field. The next batter, Juan Soto, sat back and drove a fly ball to center field and Rodriguez came in to score the first run. It was all the D.R. would muster.
In the bottom of the second inning, Venezuela's Anthony Santander drove a solo home run over the right field fence to tie the game up at one apiece. In the bottom of the fourth inning, David Peralta whacked a bases-loaded, two-out, two-run single to right field, scoring Salvador Perez and Andres Gimenez for a 3-1 lead, forcing Linares to lift Alcantara and bring in Hector Neris from the bullpen.
During the bottom of the sixth inning, Venezuela went up by three when Peralta doubled on a sharp line drive to center field, and Eugenio Suarez scored to make it 4-1 before Peralta was thrown out trying to stretch a double to a triple, ending the inning.
In the bottom of the eighth, Venezuela added another run when Santander roped a two out line drive triple to right field. The next batter, Eugenio Suarez, singled to right field and Santander came in to score to take a 5-1 lead.
In the top of the ninth, Jose Alvarado shut the door on the D.R., getting Rafael Devers to ground out to third base to end the game.
The Dominican Republic had left 28 men on base and had 15 batters strike out during last night's loss.
Venezuela relief pitcher Luis Garcia pitched three innings, no earned runs, no hits, walking two batters, and struck out seven during Venezuela's first win of the 2023 World Baseball Classic.
Venezuela will play 1-0 Puerto Rico at Loan Depot Park in Miami on Sunday at 7 p.m. EST on Fox Sports 1. The Dominican Republic's next game is on Monday against Nicaragua at 12 p.m. EST on Fox Sports 2.