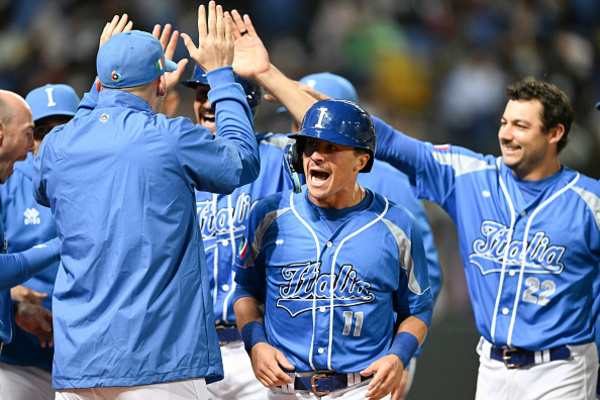 Staff Reports
World Baseball Network
Italy 7, The Netherlands 1: Matt Harvey threw four innings, giving up just two hits and one run, and Italy torched the Netherlands for six runs in the fourth inning of their final game of Pool A play in Taichung City. Nicky Lopez and Sal Frelick each had two RBI for Italy. Chadwick Tromp's solo home run provided the lone Dutch score of the game. Italy and the Netherlands both finished Pool A play at 2-2. Italy finished second in the pool, winning a five-way tiebreaker, and will advance to play Japan, the winner of Pool B, in a quarterfinal at the Tokyo Dome on Thursday, March 16, at 6 a.m. on Fox Sports 1.
USA 6, Great Britain 2: Trayce Thompson had a solo homer in the top of the first and a double for Great Britain, but it wasn't enough, as Team USA manufactured two runs in the second, three in the third, and added another in the sixth. Nolan Arenado had an RBI double, and Kyle Schwarber smacked a three-run homer in the third and walked twice for Team USA, which improved to 1-0. Team USA will face Mexico Sunday night at 10 p.m. ET on Fox Sports 1, while Great Britain will face Canada at 3 p.m. ET Saturday on Fox Sports 1.
Korea 7, Czech Republic 3: Korea scored five runs in the bottom ot the first and never looked back, topping the Czech Republic 7-2 on Saturday. Ha-Seong Kim hit two solo homers and Tommy Edman went 1-for-3 with three RBI as Korea improved to 1-2, while the Czech Republic fell to 0-3 and was mathematically eliminated from the World Baseball Classic. The Czech Republic will play their final game at the 2023 World Baseball Classic Sunday night at 11 p.m. ET vs. Australia on Fox Sports 1, while Korea will finish out Pool B play on Monday morning at 6 a.m. against China on Fox Sports 2.
Cuba 7, Chinese Taipei 2: Cuba defeated Chinese Taipei to improve to 2-2 and get into a three-way tie for second in Pool A with Panama and Chinese Taipei. Chicago White Sox infielder Yoan Moncada had a homer, a double, a RBI and two runs scored, while veteran Alfredo Despaigne, Roel Santos, and Erisbel Arruebarruena each contributed two RBI to the Cuban cause. Cuba won the five-way tiebreaker in Pool A and advances to a quarterfinal against the runner-up of Pool B at the Tokyo Dome on Wednesday, March 15 at 6 a.m. Chinese Taipei finished last in Pool A and will have re-qualify for the next World Baseball Classic.

Japan 7, Australia 1: Japan cruised to a 7-1 victory over Australia to finish Pool B play at 4-0. Shohei Ohtani hit a three-run homer in the first, and that was all the offense Japan needed, as Yoshinobu Yamamoto threw four scoreless innings, allowing just one hit and striking out eight. Japan will play Italy in a quarterfinal at the Tokyo Dome on Thursday, March 16, at 6 a.m. on Fox Sports 1. Australia will finish pool play against Czech Republic at 11 p.m. Sunday on Fox Sports 2.