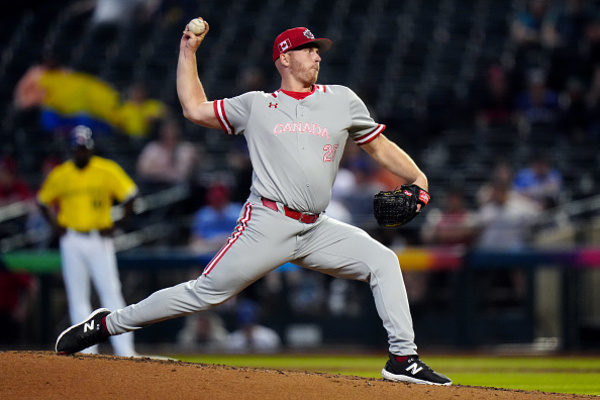 By Julian Guilarte
World Baseball Network
Canada's starting pitcher Noah Skirrow was lights out, striking out five batters across five shutout innings against Colombia as Canada pulled off a huge upset in Pool C of the World Baseball Classic in Phoenix, Arizona.
Skirrow was in complete control, allowing just two hits as Canada topped Colombia 5-0. Skirrow has come a long way since being undrafted in the 2020 MLB Draft. He split last season between Double-A Reading and Triple-A Lehigh Valley in the Philadelphia Phillies organization.
"It went about as good as you could ask for it to go," Skirrow said following the game. "[I was] just trying to be as aggressive as I could and give us a chance to win and give us as much length as possible."
Canada got their first run in the fourth when Bo Naylor hit an RBI single to make it 1-0. He drove in Tyler O'Neil, who continued to swing a hot bat with two more hits today. O'Neil is hitting .636 during the first three games of the WBC.
Colombia's starting pitcher Adrian Almedia kept them in the game allowing one run in three innings of work. Reiver Sanmartin followed him and pitched 1.2 scoreless innings for Colombia with three strikeouts. Sanmartin is a pitcher in the Cincinnati Reds organization who made his MLB debut last season.
The game was 1-0 until the eighth, when Owen Cassie drove in a run with an opposite-field single to the third base side against a shifted infield. Otto Lopez scored after getting himself on third base with a triple. Later, Lopez hit a three-run home run to ice the game in the ninth. Edouard Julien also had a big day with three hits and a stolen base. 
Unfortunately, it wasn't all good news for team Canada. Their best player, Freddie Freeman, left the game after two at-bats due to a hamstring injury. He injured it in his second at-bat in the third inning after hitting a pop-up to third baseman Gio Urshela. He stayed in the game until the bottom of the fourth when he was pulled for Denzel Clarke.
"Right now he had tightness in his hammy. And of course for precautionary reasons we took him out of the game right away," said Canada manager Ernie Whitt, who is managing Canada for the fifth time in the World Baseball Classic. "He felt something on one of his swings, his second at-bat. So again we would do that to anyone if there's discomfort or something like that, we're going to take them out. All precautions."
Scott Mathieson closed the game out for Canada in the ninth and preserved a 5-0 shutout victory. This was a big win for Canada and it gives them a puncher's chance to move on.
Canada is now 2-1 and can advance to the quarterfinals with a win against Mexico at 3 p.m. ET on Fox Sports 2 tomorrow. Colombia is 1-2 and will need help to advance. They must win against the USA at 10 p.m. ET on Fox Sports 1.