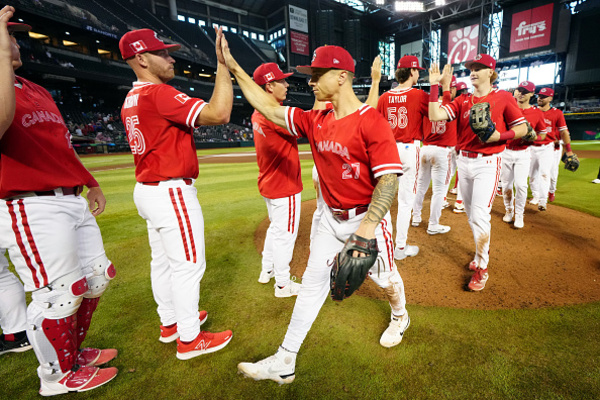 By Conor Liguori
World Baseball Network
Canada defeated Great Britain 18-8 in seven innings on Sunday afternoon at Chase Field in Phoenix, Arizona. The two teams combined for 26 runs scored, setting a World Baseball Classic single-game record. 
Great Britain was looking to pick up their first win of the World Baseball Classic after a 6-2 loss against the USA on Saturday night, and got off to a promising start, scoring three runs in the top of the first inning on RBI singles from Nick Ward and Darnell Sweeney. Canada starting pitcher Cal Quantrill was pulled from the game after recording just two outs. Quantrill walked four batters, and struck out one.
Great Britain's lead was short-lived, and they would never be able to reclaim it after Canada scored five runs in the bottom of the first to take a 5-3 lead. Edouard Julian homered on the very first pitch in the bottom of the first, and that opened the floodgates for Canada. Seemingly every ball they put in play found a hole in both the first inning and the remainder of the contest. 
A combined 13 pitchers were used in the seven-inning game, and walks came in bunches. The Great Britain pitching staff walked 16 hitters, and Canada pitchers walked seven. A lack of command also led to pitches down the heart of the plate. More so than Great Britain, Canada did not waste many opportunities they had to score. Canada put the game away with a four run inning in the third, and six runs in the fourth. At the end of four innings, they led 16-8. Canada would tack on two more runs, one in the fifth, and one in the sixth to take a 10-run lead. They had 17 hits in the game. 
The game was called due to the WBC's mercy rule in the seventh inning. The combination of bases on balls, pitching changes, and multiple high-scoring innings led to a total game time of almost five hours. 
The standout hitters of the game were Tyler O'Neil from Canada, and Harry Ford from Great Britain. O'Neil went four for four at the plate with four runs batted in. He reached base safely every time he came up to the plate. At 20 years and 19 days, Harry Ford became the youngest player to ever hit a home run in the World Baseball Classic. Ford's three-run home run came early in the fourth inning, but it only cut the Canada lead down to eight.
Both teams will have to get some much needed rest before their respective games tomorrow. Great Britain will take on Colombia at 3:00 p.m. ET on Fox Sports 2. Freddie Freeman and Canada will take on the USA at 10:00 p.m. ET on Fox Sports 1.