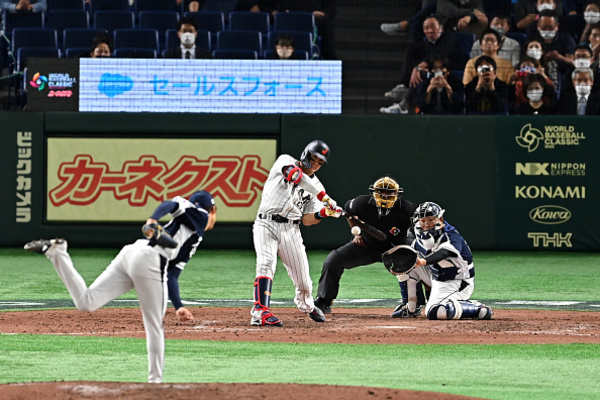 Staff Reports
World Baseball Classic
Cuba 13, Panama 4: Cuba finally put a mark in the win column, beating Panama behind Yoan Moncada's three hits and four RBI, while Yadil Mujica also contributed two doubles and four RBI to Cuba's cause. Pedro Lazo's pitching staff allowed four runs on nine hits, and all four runs were given up by starter Ronald Bolanos, who went 1.1 innings. Panama falls to 1-2 and will play Italy at 11 p.m. ET on FS1, while Cuba improves to 1-2 and will face Chinese Taipei on Saturday at 11 p.m. ET. Both teams must win their remaining game to have a chance to advance out of pool play.
Czech Republic 8, China 5: Martin Muzik's three-run homer in the top of the ninth gave the Czech Republic the winning run, as the longshots in Pool B squared off at the Tokyo Dome, and the outfielder also contributed a sac fly in the second. Matej Mensik hit a solo homer to left in the top of the third, while Czech pitching allowed five runs on four hits. China fell to 0-2, and will face Australia tonight at 11 p.m. ET, while the Czech Republic improved to 1-0 and will face Japan tomorrow morning at 5 a.m. ET.
Japan 13, Korea 4: Korea put an early scare into Japan, jumping out to a 3-0 lead in the top of the third before the Japanese offense came alive and outscored Korea 13-1 over the remaining six innings. Boston Red Sox outfielder Masataka Yoshida had three hits and five RBI, while Shohei Ohtani had two doubles, two runs scored, two walks, and an RBI. Yu Darvish allowed three runs and three hits, earning the win as Japan's starter. Japan improves to 2-0 and will face the Czech Republic Saturday at 5 a.m. ET, with a win almost certainly clinching first place in Pool B. Korea will face the Czech Republic Saturday at 10 p.m. ET, where they will need to win to stave off elimination.

Chinese Taipei 11, Italy 7: Red Sox infielder Yu Chang paced Chinese Taipei past Italy with two hits, a walk, three runs scored and an RBI, while Chieh-Hsien Chen added a double, two singles and three runs, as Chinese Taipei improved to 1-1. The Italy bullpen couldn't hold onto a 7–5 lead, as Chinese Taipei scored twice in the sixth, once in the seventh, and thrice in the eighth. Italy will face the Netherlands, who lead Pool A at 2-0, on Sunday at 7 a.m. ET, while Chinese Taipei will face the Netherlands Saturday at 6 a.m. ET.