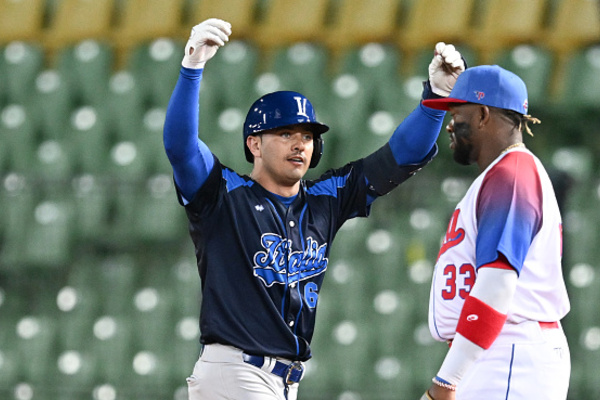 Staff Reports
World Baseball Network
Italy 6, Cuba 3 (10 Inn.): Dominic Fletcher's 10th inning single scored John Valente for the winning run as Italy shocked Cuba 6–3 in Taichung City on Thursday. Nicky Lopez followed with two-out, two-run single that scored Fletcher and his brother, David, to give Italy a 6-2 lead. Cuba added one run in the bottom of the 10th, but it wasn't enough, as Mitchell Stumpo closed out the win for the Azzuri. Cuba fell to 0-2, and will need to win both of their remaining games by a sizable margin to have any hope of advancing out of Pool A, while Italy improved to 1-0. 
Australia 8, Korea 7: A three-run homer by Robbie Glendenning in the top of the seventh and another three-run homer by Robbie Perkins in the top of the eighth powered Australia to an 8–7 upset of Korea in Pool B play at the Tokyo Dome. Australia's win brightens their hope of advancing out of pool play, as they are expected to beat the Czech Republic and China. Korea will need to win big against China and the Czech Republic to win the tiebreaker, which is based upon run differential, or win all three remaining games to advance.
Netherlands 3, Panama 1: The Netherlands improved to 2–0 in Pool A with a 3–1 against Panama Wednesday night. Xander Bogaerts had three hits, including a double and a solo home run, and the Netherlands' defense stifled Panama. Jurickson Profar also homered for the Netherlands, who are likely to advance out of Pool A, with games against Chinese Taipei and Italy remaining on the schedule. Panama fell to 1-1.
Japan 8, China 1: Shohei Ohtani threw four scoreless innings, allowing just one hit and striking out five, and hit a two-run double to help his own cause as Japan cruised to an 8-1 win against China at the Tokyo Dome. Japan put 25 runners on base, with nine hits and 16 walks, but mustered just eight runs, leaving nine runners on base as China played efficient defense. China falls to 0-1, while Japan, the host of Pool B, is 1-0.