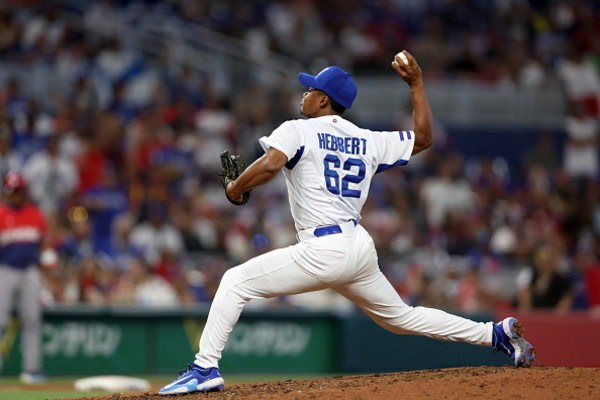 By Leif Skodnick
World Baseball Network
It's three batters down, and a career to go – perhaps one that will see Duque Hebbert of Nicaragua pitching in the Motor City or elsewhere in las Grandes Ligas.
Detroit Tigers scout Luis Molina signed Hebbert almost immediately after his fairytale ninth inning appearance Monday afternoon against the Dominican Republic, which saw him strike out major leaguers Juan Soto, Julio Rodriguez, and Rafael Devers. When the ink on the contract was dry, he called his mother and grandmother back home, and he cried.
Can you blame him?
Hebbert, an indigenous Miskito from Nicaragua, was working as a fisherman – as Mariano Rivera did in Panama – before he made it to the professional ranks.
"The team I play for, their name is Pescadores. We are known as pescadores, fishermen," Hebbert said before Nicaragua's game against Venezuela Tuesday. "We have a beautiful culture, multicultural with several dialects, and I'm Miskito, I represent my people."
Down there, the Miskito people speak English, Spanish, German, and Miskito Creole, a language in which Hebbert answered when asked what his signing with Detroit would mean to his people.
He then repeated his answer, saying, "I thank them, and I send my blessings for following me, for supporting me, for being there always for me. You that have always supported me in the bad and good times."
Last winter, he made it to the biggest stage that small country has, Nicaragua's Liga Beisbol Profesional Nacional, with Tren del Norte, appearing in 15 games.
Hebbert mixed fastballs, sinkers and sliders with a nasty changeup, and relied on them yesterday against the Dominican Republic.
"That's what brought me here to the Nicaraguan team because I played with Tren del Norte, and I did my best, and I was disciplined, and I was Rookie of the Year with them, and that's why the manager and the coaches selected me to be here," Hebbert said.
After all, you have to dance with the one who brought you, right?
"…The job he did in the national championship and the professional league showed what I really liked. You know, the hunger, the will to compete no matter the teams they are going to face," said Nicaragua manager Sandor Guido. "I called on him for the ninth inning. Duque came out, and you saw his performance – Soto, Rodriguez. I thought Machado would be the last victim, but no, he was spared. Then Devers."
Guido, who will go back to Nicaragua to manage Leones de Leon, is clearly pleased with Hebbert and what his signing means for Nicaraguan baseball.
"Now everyone is speaking about Duque in the world, and in the Classic he is more famous than myself," Guido said. "I want our players to play in Venezuela, Mexico, [Taiwan] and Japan because this is going to be great for Nicaraguan baseball."
While the video of Hebbert's appearance went viral, he has yet to see it.
"I mean, there are so many emotions that I'm feeling," Hebbert said. "I haven't seen it myself on social media. I'm focused on what I am doing, and maybe when I have free time, then I will get onto social media and see the video again."
Nicaragua will go home tomorrow, leaving Miami and the World Baseball Classic with an 0-4 record.
It was somewhat foreseeable that a Central American country with a population of 6 million would have a difficult road to advance out of Pool D at the World Baseball Classic, given that they'd be facing three of the most powerful nations in international baseball in the Dominican Republic, Puerto Rico, and Venezuela, plus an Israel team that was stocked with prospects and Major League Baseball role players.
But it's not farewell – as one famous Oakland A's fan used to say, it's only, "Goodbye for now," though Nicaragua will have to qualify to get into the next WBC.
But Duque Hebbert?
We might see him sooner than the next World Baseball Classic.