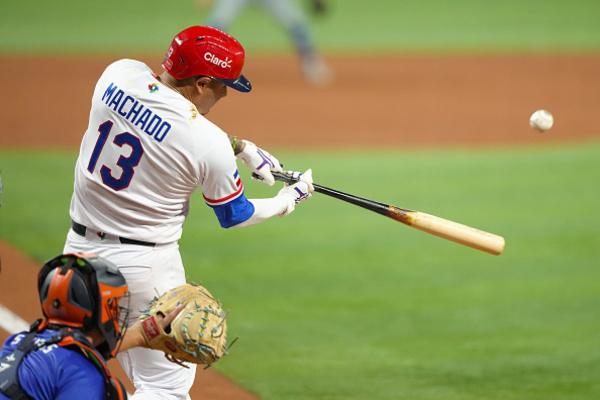 By Matthew Tallarini
World Baseball Network
The Dominican Republic improved to 2-1 to the 2023 World Baseball Classic, beating Israel 10-0 in seven innings due to the WBC mercy rule. 
Jean Segura's ground-rule line drive to right center field scored Robinson Cano and Nelson Cruz to give the Dominican Republic a 10-0 lead, and set up a date with Puerto Rico in a win-or-go-home scenario Wednesday night for berth in the quarterfinals.
Israel only managed one hit, Spencer Horwitz's lead-off single to start the top of the third inning, after being the victim of a mercy rule perfect game by Puerto Rico the night before.
Dominican Republic manager Rodney Linares started Roansy Contreras, who went 2.2 innings, giving up just one hit, no walks, and striking out four.
The Dominican Republic is ninth in the World Baseball Softball Confederation (WBSC) rankings and will look to keep their momentum going up against Puerto Rico today at 7 p.m. EDT on Fox Sports 1.
"It was a really good game. The guys swung the bat well, but the most important thing we did not have to use our guys. You know, we shut them down, and guys came up big. The young bucks came up big early. Contreras and Ortiz. Cabrera did a great job, so happy," Linares said following the game.
The Dominican Republic scored early. In the bottom of the first inning, Eloy Jimenez singled on a sharp line drive to left field and Juan Soto came in to score the first run of the game.
During bottom of the third inning, Manny Machado launched a 437-foot solo home run to left center field to put the Dominican Republic went up 2-0.
A few batters later, Ketel Marte doubled to left field and Rafael Devers came in to score, making it 3-0.
In the bottom of the sixth inning, Julio Rodriguez doubled on a Baltimore chop that eluded the outstretched glove of shortstop Ty Kelly and found its way to the outfield, scoring Jeimer Candelario and Gary Sanchez, and it was 5-0. Machado added to his hit parade with a two-run single to right field, scoring Soto and Rodriguez for 7-0 lead. The D.R. added three more in the seventh to end the game early.
The Dominican Republic's pitching staff combined with 10 strikeouts for the shutout.
Israel, 1-2, is mathematically eliminated, but will not have to qualify for the next World Baseball Classic in 2026, since Nicaragua went winless during Pool Play. Israel will play their last game of the 2023 World Baseball Classic today against Venezuela at 12 p.m. EDT on Fox Sports 2.